Two Sophomores are Latest Recipients of Albert Lund '48 Scholarships
April 7, 2009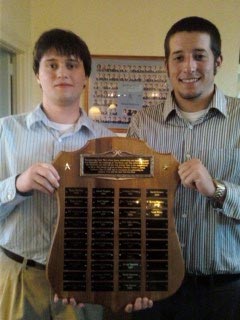 April 7, 2009, Greencastle, Ind. — Two DePauw University sophomores who are members of Phi Delta Theta, Indiana Zeta chapter, are being rewarded for their scholarship, campus and community involvement. Scott White and Kevin Hoesley are recipients of Albert L. Lund '48 Scholarships for the 2009-10 academic year. The awards are for $6,000 each. (photo, l-r: Hoesley and White)
Albert L. Lund established the scholarship in 1999 to reward members of his fraternity for their dedication to academics and to recognize their involvement in campus and community activities. Thirty-three Lund Scholarships have now been awarded.
Larry Lund '77 and his sister, Lindsey Lund Peterik '74 (the son and daughter of Albert Lund) and Ed Gower '77 presented the awards at the chapter's annual scholarship banquet tonight. Both Lund and Gower are Phi Delts. Others on hand for the announcement included Joanne Haymaker, associate director of financial aid at DePauw.
Albert Lund passed away in 2003.
"Since it was by the grace of a Rector scholarship that my father was able to attend DePauw, he believed it essential to give back to the University, and in particular to Indiana Zeta, where so many of his fondest college experiences occurred," says Larry Lund. "Through his gift, my dad sought to make this chapter an even stronger institution than it was when he was a student, thereby improving DePauw as well. It's truly the embodiment of one of the fraternity's teachings to leave behind 'not only not less, but greater than was left to me,' and I'm thrilled to honor these three young scholars."
Back