LA Times' Front Page Ad "Unwise and Ethically Problematic": Prof. Bob Steele '69
April 10, 2009
April 10, 2009, Greencastle, Ind. — "The Los Angeles Times came under criticism Thursday after it ran a front-page advertisement that resembled a news story," begins a story in today's edition of that newspaper, which quotes Bob Steele, DePauw University's Pulliam Distinguished Visiting Professor of Journalism. Although labeled as an advertisement, the plug for NBC's Southland "appeared in the left column, starting below the fold and above and beside a banner ad for the television show" and was written as if it were a news story.
"It's unwise and ethically problematic to have advertising morph into news content and style," Dr. Steele tells the Times. "Each step may seem like a small one. But each time you cut a corner, you create weakness in the overall product."
The newspaper's publisher, Eddy Hartenstein,
counters, "Because of the times that we're in, we have to look at all sorts of different -- and some would say innovative -- new solutions for our advertising clients."
Access the complete article at the Times' Web site.
Robert M. Steele, a 1969 graduate of DePauw, also serves as Nelson Poynter Scholar for Journalism Values at the Poynter Institute. He offers a more detailed analysis of the Times' decision in a column posted at Poynter's Web site.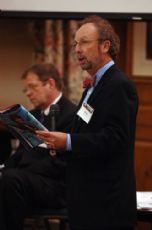 Earlier this month, Steele -- who has been called "a journalism treasure" -- was quoted in a Washington Post column which examined how that newspaper conveys its editorial policies to the public. Access it via this story.
Steele will be among a number of national figures -- including Jane Pauley and Bob Edwards -- who will gather at DePauw next Friday, April 17, for events celebrating the 100th anniversary of the founding of the Society of Professional Journalists (Sigma Delta Chi) on this campus. Details can be found in this announcement.
Source: Los Angeles Times
Back