Next Friday's 100th Anniversary Celebration of USA's Oldest Journalism Organization is Previewed
April 10, 2009
April 10, 2009, Greencastle, Ind. — "As the news business moves into a brave new world, the nation's oldest journalism organization celebrates its 100th year this month," begins a column in today's Indianapolis Star. Russ Pulliam writes, "The Society of Professional Journalists will mark the occasion at DePauw University next weekend with seminars, dinners and speeches. NBC television news star Jane Pauley, who will be inducted into the Indiana Journalism Hall of Fame, will highlight the April 17 dinner." (at left: the editorial staff of The DePauw Daily in 1908, including the men who founded what is now known as SPJ one year later)
Pulliam points out, "With nine other students, my grandfather, Eugene C. Pulliam, started SPJ 100 years ago. My father, Eugene S. Pulliam, helped keep it going as a DePauw student a generation later. He also was the 50th anniversary convention chairman in 1959 ... SPJ has thrived mostly through its local and college chapters. It's a professional fraternity, a way for journalists to gather and talk about the business, teach each other how to write better and set up contests to recognize good news writing. The group also has been a

leader in promoting a free press ... Somehow, out of a deep love of journalism, the organization has survived and helped boost the quality of the profession in many ways."
The essay notes, "The 1909 DePauw students hoped that journalism could be a higher calling. Many of them were Methodist preachers' kids and had heard sermons about service and usefulness. They were starting a fraternity, at a school where Greek chapters ruled, so they called it Sigma Delta Chi."
The organization is now known as the Society of Professional Journalists, but more than its name has changed. Pulliam concludes, "When this group started, there wasn't much money in the news business. One hundred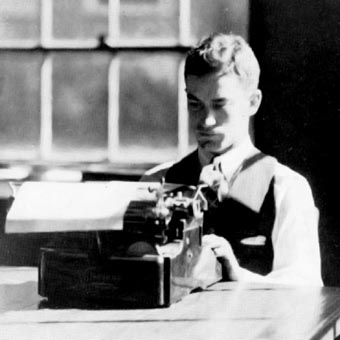 years later, we seem to be returning to the less affluent status we had in those days. That creates a new challenge for the next 100 years: how to make journalism a higher calling, at lower pay." (at left: DePauw student journalist at work in 1936)
Read the essay -- "Journalists celebrate a birthday" -- in its entirety at IndyStar.com.
Jane Pauley and a number of other national figures in journalism -- including Bob Edwards, Ken Paulson and Richard J. Tofel, author of Restless Genius: Barney Kilgore, The Wall Street Journal, and the Invention of Modern Journalism -- will gather at DePauw. Details of the day-long can be found in this announcement. The celebration will conclude with a keynote address by 2009 Indiana Journalism Hall of Fame inductee Jane Pauley, which is being presented by DePauw's Timothy and Sharon Ubben Lecture Series.
Source: Indianapolis Star
Back