Actor David Cryer '58 to Receive Honorary Degree at 170th Commencement
April 17, 2009
Also: Pre-Order Your Commencement DVD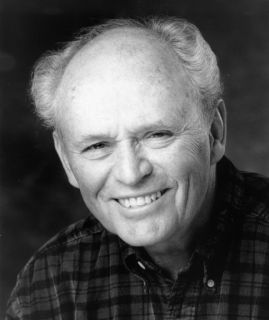 April 17, 2009, Greencastle, Ind. — David Cryer, the 1958 DePauw University graduate who performs in the record-setting Broadway musical Phantom of the Opera and has shared the movie screen with Clint Eastwood and Richard Gere, will receive an honorary degree from his alma mater next month. Cryer will receive an honorary Doctor of Arts degree at the University's 170th annual commencement.
The ceremony will take place Sunday, May 17, at 1 p.m. (EDT) in Holton Memorial Quadrangle. In the event of rain, the proceedings will be moved indoors to the Lilly Center's Neal Fieldhouse.
As previously announced, John Dittmer -- professor emeritus of history at DePauw University, award-winning author, and a nationally recognized authority on the civil rights movement -- will provide the principal address to DePauw's Class of 2009 and will be presented with an honorary Doctor of Humane
Letters degree at the event. (at right: David Cryer's senior picture from the 1958 Mirage)
Born Donald David Cryer in Evanston, Illinois, Cryer has always been known by his middle name because his father was also named Donald. He graduated from Findlay High School in Ohio and continued his studies at DePauw, where he was active in the University's choir and orchestra, performed with the Collegians and Lost Chords and in other on campus entertainment programs, and was president of the student senate. He was a recipient of Gold Key and the Walker Cup, which is given to the DePauw senior who has done the most for the University.
After being awarded a B.A. in history from DePauw, Cryer received a Rockefeller Fellowship to study at Yale Divinity School, then enrolled at Harvard Law School in the Fall of 1959. But Cryer's passion for performing led him to forgo law school and instead pursue a M.F.A. in directing from Boston University, which he received in 1961.
His career plans were put on hold when Cryer served in the U.S. Army and spent 6 years in the Army Reserves.
Cryer is a veteran of 13 Broadway shows. He is currently playing Monsieur Firmin in the Broadway production of Phantom, which he has done since January 2006; he had performed that part in the musical's national tour since 1992. "I have played Monsieur Firmin about 6400 times, more than any living creature, but I still absolutely love doing the part," Cryer states.
His other Broadway credits include Rutledge in 1776, Juan Peron in Evita, Ari in Ari, the Red Shadow in The Desert Song, and Jude Scribner in Come Summer. Cryer had leading roles off-Broadway in The Fantasticks, The Streets of New York, Mademoiselle Colombe, and Making of Americans.
The actor's career has taken him across America in road companies, playing opposite Anna Maria Alberghetti in West Side Story; Georgio Tozzi and Ricardo Montalban in The King and I; Dyan Cannon in I Do, I Do; and Debby Boone in The Sound of Music.
David Cryer's movie appearances include roles in Escape from Alcatraz and American Gigolo, and he has had roles on television's Law and Order, Dallas, Spenser: For Hire, Emergency! and Wonder Woman, among other programs. For several years he was a featured performer on the daytime serials As The World Turns and Where The Heart Is.
He co-produced the national tour of The Fantasticks (with Albert Poland), as well as the New York production of the musical Now is the
Time For All Good Men, which was written by 1957 DePauw graduates Gretchen Cryer and Nancy Ford.
Video clips of David Cryer from a February 1996 television news profile can be accessed here and here.
Learn more about commencement by clicking here.
A limited edition DVD of this year's ceremony will be created. It will include every graduate walking across the stage as well as bonus materials. Information on the disc can be found in this previous story; and online order form is accessible here.
Back