Dance Music to be Focus of DePauw Band Concert Sunday
April 14, 2009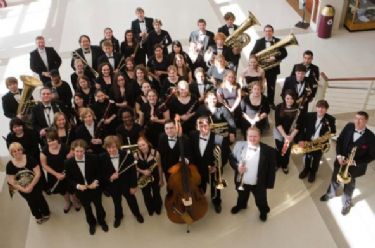 April 14, 2009, Greencastle, Ind. — The DePauw University Band will present a concert on Sunday, April 19, at 3 p.m. in Kresge Auditorium of the Judson and Joyce Green Center for the Performing Arts. The performance is free and open to the public.
The program will feature three student chamber wind groups (a woodwind trio, a clarinet quartet and a trombone quartet) as well as four works for the full band: Dance Toccata by Denes Agay, Illyrian Dances by Guy Woolfended, Danza Final by Alberto Ginastera, and Dance Movements by Philip Sparke.
"For some reason, 'dance' was on my mind as I planned this program last summer, and I couldn't think of anything else other than dance music," states Craig Paré, conductor of the DePauw University Band. "The concert will feature a wide variety of styles of dance music, from styles that only suggest
the underlying energy and motion of dance, to pieces that are actual dances - the Malambo, from Danza Fina is a masterful Argentinean dance that is executed by men only."
Under the baton of Professor Paré the DePauw University Band has recorded and released seven compact discs. Learn about the most recent CD, Starsplitter, in this previous story.
For more information, visit the DePauw University School of Music online.
Back