Tigers Sweep Rhodes in SCAC Twinbill
April 10, 2009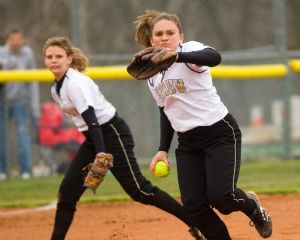 April 10, 2009, Greencastle, Ind. — The 16th-ranked Tigers trailed early in both games of their Southern Collegiate Athletic Conference doubleheader with Rhodes, but rallied in each and swept the Lynx by scores of 7-1 and 14-3.
DePauw improved to 18-7 overall and 9-0 in the SCAC, while Rhodes dropped to 26-8 overall and 11-3 in the conference. The wins extended DePauw's SCAC regular season win streak to 27 straight games.
In the opener, Kelly Zomer led off the Rhodes first with a walk and eventually scored on Rebekah Moore's base hit to left.
DePauw knotted the score when Rachel Gill led off the second with a homer to left center and took a 3-1 lead when Chelsy Patterson hit a two-run shot to left in the third. They added one more in the inning when Emma Minx reached on an error and scored on Gill's single.
Brianne Weeks hit a two-out double in the fifth and scored on Minx's single to make it 5-1. DePauw added its final two runs in the sixth when Kelly Schwerzler scored from third when Rachel MacBeth reached on an error and Carolyn Bartlett came home on Patterson's single down the left field line.
Megan Soultz allowed just two hits while striking out five and walking one. In improving to 15-7 she allowed just one runner to reach base after the first inning. Sara Bowen dropped to 11-2 with the loss as she struck out seven and didn't allow a walk.
Moore had both of Rhodes' hits, while the Tigers totaled nine. Patterson, Weeks, Gill and Bartlett each had two and Patterson drove in three.
In the nightcap, Rachel Gill drove in Emma Minx from second to give DePauw a 1-0 lead in the bottom of the first, but Elise Suna's homer to center in the second tied the score at 1-1. The Lynx took a 3-1 lead as Zomer and Caroline Cooper led off with singles and advanced a base on Allison Conn's sacrifice bunt. Both scored on Moore's double to left center.
The Tigers sent 16 batters to the plate in the third and scored 10 runs to take the lead for good. The first three Tigers reached on singles before MacBeth was thrown out at the plate when Minx reached on a fielder's choice.
DePauw's first run came home when Gill reached on a fielder's choice and the Lynx's throw to the plate was late in getting Patterson. The next seven batters reached as the Tigers totaled 10 hits in the frame. Lauren Rees hit a three-run pinch-hit homer to left center in the fourth to round out the scoring.
DePauw totaled 15 hits led by Jen Kosinski's three and two each from Weeks, Gill and MacBeth. Gill, Kosinski and Rees each drove in three in the win. Zomer, Cooper and Moore each had two of Rhodes' eight hits. Soultz improved to 16-7 with five strikeouts and one walk, while Cindy Bitters dropped to 7-5 with the loss.
The teams square off in a Noon doubleheader tomorrow.
PHOTO COURTESY OF: Alex Turco
Back