DePauw Student Media Experiences "Got Me Going in TV," Says FOX's Bret Baier '92
April 13, 2009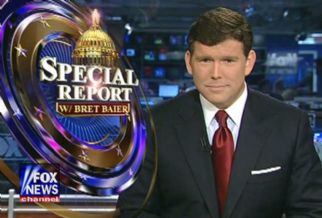 April 13, 2009, Greencastle, Ind. — "At DePauw University in Greencastle, Ind., Baier earned a bachelor's degree with a major in political science and English in 1992 and was the college TV station's first anchor," notes today's News & Observer of Raleigh-Durham, North Carolina. The newspaper profiles the anchor of FOX News Channel's Special Report with Bret Baier. "It was horrible," a laughing Baier recalls of his first appearances on DePauw's student television station. "It was really, really bad. But it was something. And it got me going in TV."
Since Baier replaced Brit Hume as anchor of Special Report on January 5, the program's "viewership rose 39 percent over the same period in 2008. In March, it increased 44 percent compared with a year before," reports Luciana Chavez. "Baier's 6 p.m. show attracted twice as many viewers as the CNN and MSNBC shows in the same time slot combined, an average of 2,045,000 viewers,

according to Nielsen Media Research.
The story begins, "Bret Baier has been covering the White House and national politics for a decade. Yet even he still experiences surreal moments with the most powerful people in Washington. The anchor ... recently ran into Rahm Emanuel, chief of staff for President Barack Obama. Emanuel told Baier, a former WRAL reporter, he was doing a great job since replacing Brit Hume ... Emanuel told Baier the White House senior staff watches his show every night. 'I said, 'Oh come on ...,'Baier says. 'And he said, 'Now sometimes we have the volume down, but we watch it every night.' Baier found the story funny and gratifying. 'It told me the administration knows we're there,' he says, 'and it's in their best interest to watch us.'"
The article recaps how, after graduating from DePauw, Baier took reporting jobs in Beaufort, South Carolina, and Rockford, Illinois, then went to Raleigh-Durham before getting the call from FOX. H
e rose to become the network's national security correspondent and then chief White House correspondent. "Covering the White House, Baier took 13 trips to Iraq and 11 to Afghanistan, including a stint when he was embedded with U.S. troops at the Afghanistan-Pakistan border," writes Chavez. "Baier also did rare one-on-one interviews with, among others, former President George W. Bush and Gen. David Petraeus on his final day commanding in Iraq."
Access the complete text at the newspaper's Web site.
In March 2008, Baier returned to his alma mater to discuss his career and to praise the virtues of a DePauw degree. A story with audio clips can be accessed here.
In February, Bret Baier and his family were featured in People magazine.
Back