Advice of Barney Kilgore '29 Could Help Ailing Newspapers Today: Wall Street Journal
April 13, 2009
April 13, 2009, Greencastle, Ind. — "It's make-or-break time for many newspapers," begins an opinion column published in today's Wall Street Journal. L. Gordon Crovitz writes, "As the remaining city newspapers rethink themselves, editors and publishers might consult a road map for how newspapers can live alongside new media that was drawn up more than 50 years ago by Bernard Kilgore, outlined in a new biography by former Journal executive Richard Tofel, Restless Genius: Barney Kilgore, the Wall Street Journal and the Invention of Modern Journalism."
Bernard "Barney" Kilgore graduated from DePauw University in 1929. His biographer will visit DePauw on April 17 to discuss Restless Genius and what Kilgore might do about the state of modern newspapers as part of a day-long celebration of the 100th anniversary of the founding of the Society of Professional Journalists/Sigma Delta Chi. Richard Tofel's lecture will begin at 2 p.m. in Meharry Hall of historic East College and is free and open to all.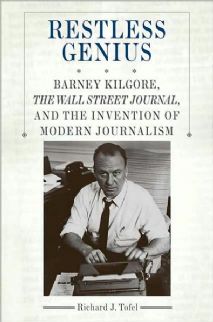 Crovitz asserts, "Kilgore had remarkable judgment early about the journalistic issue of our day: how readers use old media, new media and both. When Kilgore became managing editor of the Journal in 1941, he inherited a business model that technology had undermined. Founded in 1889 to provide market news and stock prices to individual investors, the Journal lost half its circulation as this basic information became widely available. Kilgore observed that then new media such as radio meant market news was available in real time. Some cities had a dozen newspapers that had gained the Journal's once-valuable ability to report share prices. The Journal had to change.
Kilgore made the newspaper's coverage more dynamic and with an eye toward analysis. Crovitz points out, "On the morning after Pearl Harbor, other newspapers recounted the facts already known to all the day before through radio. The Journal's page-one story instead began, 'War with Japan means industrial revolution in the United States.' It outlined the implications for the economy, industry and commodity and financial markets." Kilgore, who was named "Business Journalist of the 20th Century," also was respectful of readers' time and stressed that local newspapers needed to be distinctive and reflect their communities. "His advice was clearly ahead of its time," writes Crovitz.
Kilgore retired as president of Dow Jones & Co. in 1966. By then, the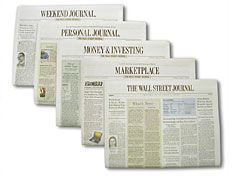 Journal's circulation -- which was under 32,000 when Kilgore became managing editor in 1941 -- had climbed to about one million.

[Download Video: "Bernard Kilgore Biography" - 9509kb]
"Kilgore's first critical finding," Tofel writes in Restless Genius, was "that readers seek insight into tomorrow even more than an account of yesterday. (This lesson) may only now be getting through to many editors and publishers."
Crovitz's column concludes, "If readers would prefer more-compact city newspapers, a less-is-more approach could help cut newsprint, printing, distribution and other costs that don't add to the journalism. Newspaper editors could craft a new, forward-looking role for print, alongside the what's-happening-right-now focus of digital news. There's a lot of experimentation by editors around the country to find out what people want from their print and online news. For city newspapers on the brink, the Barney Kilgore approach might deliver some badly needed good news."
Access the complete text -- "Making Old Media New Again" -- at the Journal's Web site.
Restless Genius was also reviewed in the March 9 Wall Street Journal as well as the
March 22 Philadelphia Inquirer. Learn more about the book in this story.
Richard Tofel is general manager of ProPublica, a not-for-profit investigative reporting venture, and previously was an assistant managing editor and the assistant publisher of the Wall Street Journal.
He, Jane Pauley and a number of other national figures in journalism -- including Bob Edwards and Ken Paulson -- will gather at DePauw this Friday, April 17. Details of the day-long celebration of the 100th anniversary of SPJ can be found in this announcement. The event will conclude with a keynote address by Pauley, a 2009 Indiana Journalism Hall of Fame inductee, which is being presented by DePauw's Timothy and Sharon Ubben Lecture Series.
Back