Wall Street Journal's "High Command," Including Barney Kilgore '29, Graduated from DePauw: New Yorker
April 14, 2009
Also: April 17 Celebration Will Mark 100th Anniversary of SPJ's Founding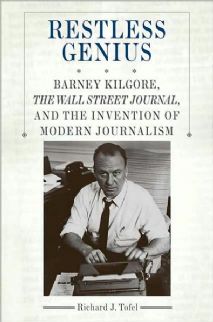 April 14, 2009, Greencastle, Ind. — "Richard J. Tofel's new biography, Restless Genius: Barney Kilgore, the Wall Street Journal, and the Invention of Modern Journalism (St. Martin's; $25.95), makes it clear that the Journal, despite its name, is culturally a Midwestern institution, much of whose high command, during the years of its rise, had, like Kilgore, graduated from DePauw University, in Greencastle, Indiana," notes the latest issue of New Yorker. The magazine summarizes the new biography of Kilgore, a 1929 graduate of DePauw.
Author Richard Tofel will be on campus Friday to speak as part of a day-long celebration of the 100th anniversary of the founding of the Society of Professional Journalists/Sigma Delta Chi. Richard Tofel's lecture will begin at 2 p.m. in Meharry Hall of historic East College and is free and open to all.
Bernard "Barney" KIlgore was the publisher of the Journal and the longtime president of Dow Jones & Company. He was named "Business Journalist of the 20th Century"

[Download Video: "Bernard Kilgore Biography" - 9509kb].
Nicholas Lemann writes, "Kilgore and his colleagues did figure out how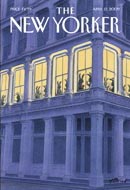 to publish a home- and office-delivered daily newspaper nationally, something that was far more difficult to accomplish in the nineteen-forties and fifties than people who have grown up with the Internet can imagine. The Journal's circulation, which was thirty-two thousand when Kilgore became its managing editor, in 1941, rose to just above a hundred and fifty thousand in 1950, eight hundred and twenty-five thousand in 1962, and almost a million when Kilgore died, of cancer, at the age of fifty-nine, in 1967."
The article adds, "Tofel, who worked at the Wall Street Journal for many years, writes in clean, precise newspaperman's prose."
Other DePauw alumni who worked at the Journal during that era include Kenneth C. Hogate '18, who was named managing editor of the Wall Street Journal at age 26, and introduced stock-market quotes to the paper. He rose to become chairman of the boad of Dow Jones & Co. Others in leadership roles at the newspaper were Buren McCormack '30,
managing editor; Robert L. Bottorff '29, executive editor; and Theodore E. Calles '30, advertising director.
Aaron Lucchetti, a 1996 DePauw graduate, is currently a reporter for the Journal.
You'll find the complete essay at the magazine's Web site.
Restless Genius was the subject of an op-ed in yesterday's Wall Street Journal. The book was also reviewed in the March 9 Journal as well as the March 22 Philadelphia Inquirer. Learn more about the book in this story.
Richard Tofel, Jane Pauley and a number of other national figures in journalism -- including Bob Edwards and Ken Paulson -- will gather at DePauw this Friday, April 17. Details of the day-long celebration of the 100th anniversary of SPJ can be found in this announcement. The event will conclude with a keynote address by Pauley, a 2009 Indiana Journalism Hall of Fame inductee, which is being presented by DePauw's Timothy and Sharon Ubben Lecture Series.
Back