DePauw Research on Smiles Gets Worldwide Attention
April 14, 2009
April 14, 2009, Greencastle, Ind. — Research conducted at DePauw University by associate professor of psychology Matthew J. Hertenstein, an alumna, and two of his students is getting worldwide media attention today. "According to scientists it is possible to predict whose marriages will fail by looking at photographs taken decades earlier," begins a story in the London Daily Mail. "Those with the brightest smiles are more than three times as likely to have a strong marriage than those who frown their way through family outings as a child or teenager. Even snaps taken at the age of five yield clues about the path a person's life will take."
The research is published in the new edition of the journal Motivation and Emotion. It was authored by Dr. Hertenstein (pictured at right); Carrie A. Hansel, formerly research coordinator at DePauw's Emotion Lab and 1993 graduate of the University; and 2008 DePauw graduates Alissa M. Butts and Sarah N. Hile, who were students of the professor.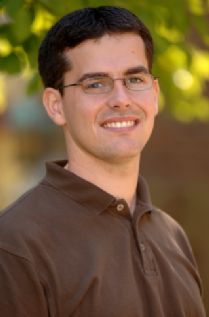 "Smile intensity predicted whether or not participants divorced at some point in their lives," the researchers write. "The less intensely participants smiled, the more likely they would be divorced later in life."
The text continues, "To make the link, the researchers asked almost 650 adults for pictures taken during their final year of school and rated the brightness of their smiles. The men and women ranged in age between 21 and 87, meaning some of the snaps were 70 years old. The scientists, from DePauw University in Indiana, then asked the volunteers if they had ever been divorced -- and matched their answers with the data on their smiles. Those with the weakest smiles were more than three times as likely to have been through a divorce than those who beamed their way through their teenage years," reports the Daily Mail.
"Maybe smiling represents a positive disposition towards life," Dr. Hertenstein says in an article posted today at MSNBC.com. "Or maybe smiling people attract other happier people, and the combination may lead to a greater likelihood of a long-lasting marriage. We don't really know for sure what's causing it."
Their findings are appearing in media reports around the world today, including in China Daily and the Times of India.
Last month, Professor Hertenstein authored an op-ed column which examined the downsides of American society's increasin
g discouragement of touch.
Research conducted by Hertenstein and his students at DePauw has previously been featured in American Baby and Prevention magazines, on the Canadian Broadcasting Corporation's program, The Nature of Things, in Sunrise magazine and the Toronto Sun, and on National Public Radio.
"Decades of research has been done on the face and the voice and the distinct emotions that they communicate," reported NPR's Michelle Trudeau. "But touch had been relatively neglected by researchers until Hertenstein stepped in and began his experiments."
Visit Dr. Hertenstein's Emotion Lab online by clicking here.
Back