Page Cotton Serving on National Sports Travel Task Force
April 15, 2009

April 15, 2009, Greencastle, Ind. — "The National Business Travel Association (NBTA) has begun discussions with key leaders of the sports travel world," including S. Page Cotton, director of athletics at DePauw University, notes an announcement. "At a recent meeting at the NCAA headquarters in Indianapolis, Indiana, a group of 11 travel leaders met to discuss the business of sports travel management. The group was formed to address the unique travel concerns inherent in the sports industry, specifically as they relate to the various leagues, jurisdictions, championships, sporting events and teams represented on the task force."
Cotton is serving as the representative of NCAA Division III colleges. The task force also includes leaders from Major League Baseball (MLB), the National Basketball Association (NBA), the National Hockey League (NHL), the National Football League (NFL), the National Football League Players Association (NFLPA), the National Collegiate Athletic Association (NCAA), The University of Texas at Austin (Division I) and Anderson University, South Carolina (Division II).
"The group will work on sharing best practices, forming an NBTA community of sports travel leaders, and developing specific educational and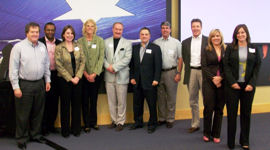 certification programs in sports travel management and purchasing." The next meeting will take place in June.
Read more by clicking here.
Page Cotton is the Theodore Katula Director of Athletics and Director of Recreational Sports and professor of kinesiology. He served as DePauw's head men's soccer coach from 1969 to 2008, and had a record of 390-190-33. His teams had a winning record each of his final 26 years. Coach Cotton led DePauw to eight NCAA Tournament appearances, and he was among the top 10 in victories among active Division III coaches prior to his retirement. He is a member of the Indiana Soccer Hall of Fame.
Back