How Green Is Our IT?
April 15, 2009
Information technologists from liberal arts colleges in Indiana, Michigan and Ohio gathered at DePauw in early April for GLITTER, an annual conference that was hosted by DePauw's Janet Prindle Institute for Ethics. In addition to discussions about developments in the field, this year's conference theme posed a question to attendees: "How 'green' is your IT?"
Sustainability in the field of information technology is a growing concern for organizations that depend on large computer networks. Beyond the environmental concerns of dealing with a steady stream of outdated equipment, the energy and recycling costs of computers has necessitated careful planning by colleges that want to keep their technology up to date.
"Sustainability has been a hot topic among higher education institutions such as DePauw lately," says David A. Diedrich, DePauw's technical training coordinator, who helped to organize this year's GLITTER. "Talking to the professionals who participated in the conference this year, many schools are addressing these issues right now."
Interim CIO Carol L. Smith adds, "Green computing is a huge topic among the Great Lakes Colleges Association (GLCA) institutions as well as other colleges and universities. Every week, I read several messages on the higher education listservs asking questions or offering suggestions about how to better support environmental sustainability in the IT arena. DePauw's green IT efforts stand out as a forerunner among our peers in many of our efforts."
According to Michael B. Moore, manager of technology procurement, DePauw purchases approximately 225 personal computers every year. The University's purchasing guidelines require that new computers meet specific energy standards, but Moore says that, in most cases, DePauw's suppliers are ahead of the curve in that regard.
"The Dell systems we order have been Energy Star compliant and either a Gold or Silver EPEAT rating since at least the beginning of 2007, when we first started watching this type of thing," Moore says. "Apple Computer has been compliant with the newest Energy Star standards as well since mid-2007 to early 2008."
EPEAT, or Electronic Product Environmental Assessment Tool, is based on environmental standards established by the Institute of Electrical and Electronics Engineers (IEEE). Electronics that meet all basic IEEE standards can be rated gold, silver or bronze based on criteria optional to manufacturers, such as the unit's recyclability and presence of environmentally harmful materials. Energy Star certification, which all computer equipment purchased by DePauw is required to pass, is a federal standard for energy efficiency in electronic equipment.
Most of the new computer purchases are replacements for older equipment. As an alternative to disposal, DePauw's Community Technology Enhancement Program (CTEP) has found new homes for many of the University's outdated PCs.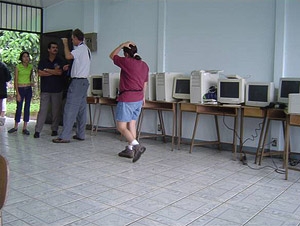 Started in 2002 by Robert P. Hershberger, Tenzer Family University Professor in Instructional Technology and chair of the modern languages department, CTEP has provided hundreds of refurbished computers to families in the Greencastle area. During Winter Term 2008, Hershberger, with Professor of Computer Science Douglas E. Harms and a group of DePauw students, traveled to El Salvador with CTEP-refurbished PCs to set up an Internet café (pictured left), which now generates enough profit to pay for an additional school teacher in the town. The program has also made donations to Costa Rica, Ecuador and Sierra Leone.
During GLITTER, Hershberger proposed using discarded Apple computers — CTEP currently handles only Windows-based computers — as community art portals. Since Apple computers such as the iMac are all-in-one designs, they are easily configured to show slideshows or films in a public location. Inside East College, a number of these prototypes are already being used to promote Integráre Magazine, published by the modern languages department.
By extending the lives of University and donated computers, CTEP reduces waste while addressing important social issues such as computer literacy. In the process, DePauw students benefit as well.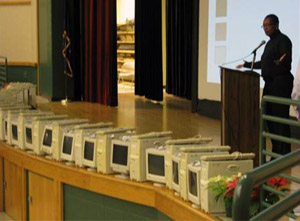 "I like to describe CTEP as a student-managed organization because we give our students a lot of autonomy in order to promote leadership," Hershberger says. "We have members who have been with CTEP for two or three years, and they help to coordinate and train the younger members. We've had a number of these student directors end up in the IT field, even though they were German or philosophy majors. Their work with CTEP lined them up with a career."
The idea for CTEP came to Hershberger after he toured an Intel facility and learned that an estimated 80 percent of computers in academia were in storage. The cost of recycling a computer is high — older monitors can contain up to 10 pounds of lead, which significantly adds to the recycling cost — forcing many schools to store their outdated computer equipment indefinitely. DePauw currently works with the Indianapolis-based Recycle Force, a branch of a nonprofit organization that helps ex-offenders obtain job skills, to recycle equipment that cannot be handled by CTEP. This two-pronged approach has significantly reduced the amount of unused computer equipment on campus.
DePauw is also taking steps to ensure that the use of its existing IT infrastructure is as environmentally friendly as possible. The server computers that run the campus network are configured in such a way that fewer are needed to provide services such as Moodle and shared network storage. Virtualization of the servers — the practice of combining network resources for better efficiency — further reduces the energy use and cooling needed to operate these web-based services.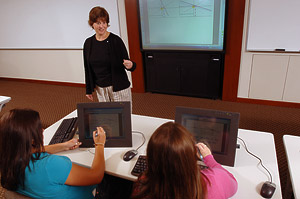 The behavior of the network's end-users is another piece of a sustainable solution. "We promote awareness about best practices to support green computing" Smith says. "We inform students, faculty and staff members about how they can contribute to energy conservation and savings and encourage them to help do their part."
Students and faculty members have responded by adopting several digital strategies to communicate, reducing the need for paper-based, printed documents. For example, by using electronic library reserves to distribute readings for classes, grading essays by e-mail and by storing class resources online. This creative use of technology has not only created greener solutions to academic necessities, but also keeps DePauw on the cutting edge of national IT developments in education.
"While larger institutions focus on research into standardized teaching or development of broader theory," Smith says, "we can borrow those theories and quickly put them into practice. Our instructional technology philosophy encourages faculty members to take carefully calculated risks to try out new methods in the classroom that will enhance the learning environment for their students."
Back