Prof. Matt Hertenstein to Appear on NBC's Today Thursday
April 15, 2009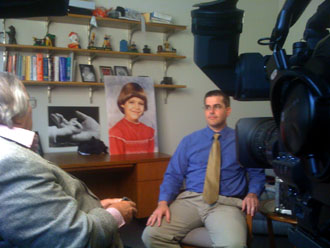 April 15, 2009, Greencastle, Ind. — Matt Hertenstein, associate professor of psychology at DePauw University, will appear on NBC's Today to discuss his research on smiles and divorce. A crew from the top-rated morning news program came to the DePauw campus today to tape an interview with Dr. Hertenstein. It is currently scheduled to air during tomorrow's program.
As published in the journal Motivation and Emotion, a team of researchers which included Hertenstein, an alumna and two DePauw students found that individuals who displayed big smiles in their college yearbook photos had lower rates of divorce than those who didn't smile as much. The item first appeared yesterday in British media outlets and is now being carried by news organizations worldwide, including United Press International and Yahoo!.
Learn more in this story from yesterday.
The study was authored by Professor Hertenstein (pictured at right); Carrie A. Hansel, formerly research coordinator at
DePauw's Emotion Lab and 1993 graduate of the University; and 2008 DePauw graduates Alissa M. Butts and Sarah N. Hile, who were students of the professor.
"I think [our results] go along with a lot of the literature that's been coming out over the last five to 10 years, which shows that positive emotionality is incredibly important in our lives," Hertenstein says. "There are many, many beneficial outcomes to a positive disposition."
Last month, Matt Hertenstein authored a newspaper op-ed column which examined the downsides of American society's increasing discouragement of touch.
Research conducted by Hertenstein and his students at DePauw has previously been featured in American Baby and Prevention magazines, on the Canadian Broadcasting Corporation's program, The Nature of Things, in Sunrise magazine and the Toronto Sun, and on National Public Radio.
Visit Dr. Hertenstein's Emotion Lab online by clicking here.
Back