Webcast Will Carry Much of SPJ's 100th Anniversary Celebration to the World
April 15, 2009
Also: April 17 Celebration Will Mark 100th Anniversary of SPJ's Founding at DePauw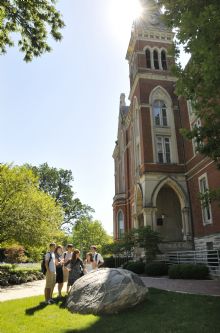 April 15, 2009, Greencastle, Ind. — Much of Friday's day-long celebration marking the 100th anniversary of the founding of the Society of Professional Journalists (SPJ) can be seen and heard even if you can't make it to DePauw University. A collaborative effort between DePauw, SPJ and the Indiana Higher Education Telecommunications System (IHETS) will produce a webcast which will provide live video and audio via the Internet from anywhere in the world. To access the feed, click here or visit SPJ's Web site, which will have the link displayed prominently on Friday.
The programs which will be available via the webcast include (all times EST) a 3 p.m. panel discussion on "Journalism in Times of Peril and Promise," the 4:45 p.m. ceremony marking the 100th anniversary of SPJ; the 5:45 opening remarks by SPJ President Dave Aeikens at a dinner being held in the Union Building ballroom; and the 7:30 keynote address by Jane Pauley, which is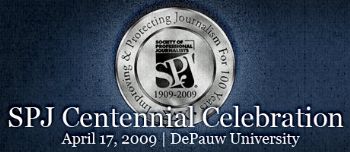 presented by DePauw's Timothy and Sharon Ubben Lecture Series.
A complete rundown of the day's events, including details on participants and locations, can be found in this article.
The nation's most broad-based journalism organization, the Society of Professional Journalists was founded on the DePauw University campus (as Sigma Delta Chi) in May 1909 by ten students.
"We've heard from journalists around the nation and even the world who have said they wish they could be in Greencastle for Friday's historic occasion," says Terry Harper, executive director of

SPJ and the Sigma Delta Chi Foundation. "We're thrilled to offer this option to people, whether they're in journalism or interested in learning more about the profession's history and challenges."
"All of the sessions except dinner will take place up the stairs from the room in East College in which SPJ was founded," notes Ken Owen, executive director of media relations at DePauw and 1982 graduate of the University. "It's a very important part of DePauw's rich history and I'm delighted that we're able to share this celebration with the world at large."
Sometime next week, all of the webcast segments will be available in archived (downloadable) format for viewing and will remain accessible for 90 days.
Check this page for a link, which will be added later.
On May 6, 1909, a story on the front page of The DePauw Daily announced that ten DePauw University student-journalists had formed Sigma Delta Chi, a journalism fraternity. The founders decided at the outset that the fraternity should be honorary, as distinguished from the usual pattern of social Greek-letter fraternities. The idea was to support a truthful, honorable press, one not dominated by commercialism. By planting journalistic ideals in student newspapermen they could make great strides towards their goal. Within a few years, Sigma Delta Chi had spread to a dozen other campuses and eventually became a national institution and an influential voice in American journalism.
Back