TV Shows That "Mock" Marriage Raise the Ire of Prof. Jeff McCall '76
April 16, 2009
April 16, 2009, Greencastle, Ind. — "Marriage is respected and given a special place in every religious and cultural tradition around the world," writes Jeffrey M. McCall, professor of communication at DePauw University, in today's Atlanta Journal-Constitution. "On network television, however, the institution of marriage is provided no special place. Instead, network producers mock and thumb their noses at marriage, thus providing more evidence that television has disconnected from the cultural mainstream."
Dr. McCall, author of Viewer Discretion Advised: Taking Control of Mass Media Influences, declares, "Television is a powerful cultural force, and network programmers are clearly intent on redefining how marriage is viewed in America. Two new shows in development for this fall demonstrate how far major network television is willing to go in devaluing marriage."
The professor's op-ed column dissects the new reality programs, which have working titles of "Arranged Marriage" and "The Marriage Ref." In the first series, two actual single people are brought together by their families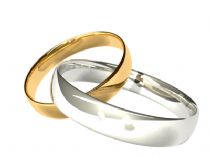 are get married as cameras document the process. The other show, which has Jerry Seinfeld as executive producer, will offer bickering couples advice from celebrities and professional athletes.
"The issue is whether real people must be used as props and have their personal matters aired in public while viewers laugh at them and networks make money from them," opines McCall. He also points to a recent study that found network TV programs portray marriage negatively.
"A culture defines itself by the stories it tells, and network television doesn't mind playing a negative role in that cultural definition," he argues. "When audiences see consistent messages that marginalize and devalue the institution of marriage, at a certain point those messages become legitimized, and societal respect for marriage declines."
The column concludes, "The divorce rate in the nation is nothing of which to be proud. Recent data from the National Center for Health Statistics show the teen birth rate is up again and that 40 percent of all births are now to unwed mothers. Of course, many complex social and economic factors figure into these statistics. Television's role, however, should not be underestimated."
Access the complete text, "TV routinely disses marriage," at the newspaper's Web site.
A 1976 graduate of DePauw, Jeff McCall is a widely quoted expert on media matters. He recently discussed the future of satellite radio with Canada's Macleans and published a March 5 op-ed in the Atlanta Journal-Constitution on the impact media organizations' financial woes are having on the dissemination of information. The professor has been cited in articles published by more than 80 newspapers and appeared seven times on FOX News Channel's' O'Reilly Factor.
Source: Atlanta Journal-Constitution
Back