"International Spotlight" on DePauw Professor, Reports ABC Affiliate
April 16, 2009
Also: NBC's Today Features Professor's Research on Smiling and Divorce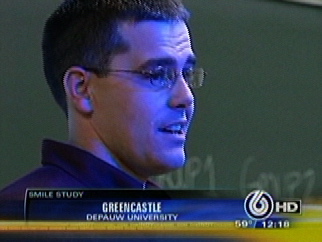 April 16, 2009, Greencastle, Ind. —

[Download Video: "WRTV Reports on DePauw Research" - 1743kb] "This DePauw professor is finding himself in the international spotlight," began a report by Julie Pursley, which aired on Indianapolis ABC affiliate WRTV's noon newscast today. "Dr. Matt Hertenstein is being recognized by publications and media outlets from around the world for his unique project," Pursley added. "The professor and a team of researchers studied what a smile can say about someone's likelihood of getting a divorce or staying married."
Published in the journal Motivation and Emotion, the study "found that people with bigger smiles in their college yearbook pictures have lower divorce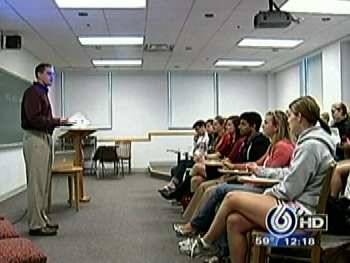 rates than those whose smiles weren't quite as big or didn't smile at all," notes the reporter.
Professor Hertenstein tells the station,

[Download Video: "Prof. on His Research" - 547kb] "We know that smiling correlates with divorce, but we have no idea really why that's occurring. It could be that they have a more positive disposition; it could be that they attract happier people."
The report included video from the psychology professor's 10 a.m. class this morning. The station plans to air another segment during its evening newscast.

[Download Video: "WRTV Teases Research Story" - 669kb]
The research was the result of work conducted by Professor Hertenstein; Carrie A. Hansel, formerly research coordinator at DePauw's Emotion Lab and 1993 graduate of the University; and 2008 DePauw graduates Alissa M. Butts and Sarah N. Hile, who were students of the professor.
Their work has been reported by news organizations around the world this week. The item first appeared Tuesday in British media outlets and spread to U.S. news organizations, including United Press International, Yahoo! and today's New York Daily News. Dr. Hertenstein appeared in a piece which aired this morning on NBC's Today.
Research conducted by Matthew J. Hertenstein and his students at DePauw has previously been featured in American Baby and Prevention magazines, on the Canadian Broadcasting Corporation's program, The Nature of Things, in Sunrise magazine and the Toronto Sun, and on National Public Radio.
Visit Professor Hertenstein's Emotion Lab online by clicking here.
Source: WRTV (ABC)/Indianapolis
Back