Cultural Resource Center Renamed in Honor of Dorothy Brown
March 31, 2009
March 31, 2009, Greencastle, Ind. — Dorothy Brown, who is known to several generations of DePauw University students and faculty members as well as the Greencastle community, is being honored for her contributions to the college and city. The University's Cultural Resource Center, located at 314 East Hanna Street, has been renamed in her honor. Brown served as DePauw's assistant director of minority affairs, taught in the education department, and has served as house mother for Phi Kappa Psi fraternity house on campus for 15 years.
About 100 of Brown's friends and admirers from DePauw and Greencastle gathered at the Dorothy Brown Cultural Resource Center this afternoon for a ceremony marking the facility's rededication.
Dorothy Chapman Brown was born in Tennessee and moved to Greencastle in her teen years. She excelled in academics and track and received a bachelor of science degree in education and then a master of science in school administration from Indiana State University.
Brown was the first African-American to teach in Greencastle schools and served as principal of Ridpath School. She taught in DePauw's education department from 1986-89.

She has been active in many local organizations, including Greencastle Kiwanis,
Putnam County Museum, NAACP, Gobin Church and Girl Scouts. She has lectured and been discussion leader for many multicultural programs and has been recognized for her hard work and dedication in making her community a better place for all families to raise children.
Brown is an "an incredible inspiration who has made significant strides in her community," Nissy Stetson-Grace, assistant director of multicultural and community life, tells The DePauw.
Brown's daughter, Charlene Shrewsbury, says her mother "makes us proud every day. I really can't think of a single act that would stand out more than all the rest because they're all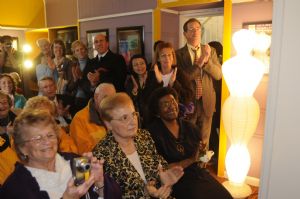 special. She goes constantly and she always has a busy day." Shrewsbury is a captain on the DePauw Public Safety department.
At the event, DePauw senior Erik Lundorf, who is a member of Phi Psi member, unveiled a portrait of Dorothy Brown which will be displayed in the center that bears her name.
Dorothy Brown Cultural Resource Center is home to several identification affinity groups, including the Committee for Latino Concerns, ASIA club and United DePauw.
Back