DePauw's Truth-Seeking Tradition
April 17, 2009
One hundred years ago this May, a group of DePauw students with a passion for journalism gathered to form Sigma Delta Chi, an honorary fraternity dedicated to journalistic integrity. The organization, which officially changed its name to the Society of Professional Journalists (SPJ) in 1988, encourages the free practice of journalism and advocates high standards of ethical behavior.

The same inquisitive, truth-seeking spirit has remained with the students at DePauw, many of whom have continued the University's tradition of excellence in journalism. Among DePauw's most recognizable alumni in journalism are Bret Baier (left) '92, host of FOX News' Special Report with Bret Baier; Barney Kilgore '29, managing editor of the Wall Street Journal and president of Dow Jones; and James B. Stewart '73, a Pulitzer Prize-winning columnist for the Wall Street Journal and editor-at-large of SmartMoney magazine, but many more have carried that tradition.
Michael S. Morris '07 argues that his career in journalism started in elementary school. "I used an electric typewriter to punch out a story about Michael Jordan," says Morris, now a staff writer for The Herald, a daily newspaper in Jasper, Ind. "I illustrated it with cut-out Gatorade ads from magazines and pulled statistics from basketball cards."
Stan P. Jastrzebski '03, news director for WFIU in Bloomington, Ind., was drawn to DePauw over other schools because of hands-on opportunities available to all students. When he arrived on campus, it didn't take long for Jastrzebski to get his feet wet.
"DePauw almost insisted I get started as soon as I was ready, instead of when they were ready for me," he says. "Having four years of on-the-ground experience seemed like a smarter bet than the two or less I seemed likely to get elsewhere."
Baier also benefited from one of these early experiences as anchor of DePauw's student television station. In a recent interview with the News & Observer of Raleigh-Durham, Baier recalls his first appearances on the station. "It was really, really bad," he said. "But it was something. And it got me going in TV."
Others weren't as certain about their future.

"I had thought about journalism, but not enough to choose a school solely because of its journalism programs," explains Aaron J. Lucchetti '96 (right), a reporter for The Wall Street Journal. "I was attracted to both the Media Fellows program and the Media Center building, both of which were new at the time. As a liberal arts university, DePauw also provided an opportunity for me to learn in a variety of areas regardless of the career choice I made."
"I had no idea what I wanted to do when I started at DePauw," Doug Frantz '71 says. "During the summer between my freshman and sophomore years, I worked for my hometown newspaper and found the job to be interesting and sometimes exhilarating. Back at DePauw, I worked a bit at the campus newspaper, but not much. I saw enough of journalism, however, to realize that it might be a good way to combine my love of writing with my natural curiosity and increasing skepticism toward the established world."

That curiosity carried Frantz far following his graduation. He has worked at the Albuquerque Tribune, Chicago Tribune, The New York Times and Los Angeles Times, where he served as the paper's managing editor. After 36 years of experience as a journalist, Frantz (left) decided to make a career change. He now serves as the chief investigator for the U.S. Senate Committee on Foreign Relations, where he says his background, professional and academic, has made the transition a smooth one.
"I have long believed that a liberal arts education provides the basis for a lifetime of learning," Frantz says. "The skills that you develop studying a combination of history, politics, economics, literature and religion should produce someone who is comfortable in many worlds, both professionally and personally. As an undergraduate, I had no real idea what I wanted to do when I grew up - and some days I still feel that way - but the education I received at DePauw turned out to be equally good preparation for my work as a reporter and for my current job on Capitol Hill."
One of DePauw's longest-lasting journalistic traditions has been its newspaper, The DePauw. Its origins date back to 1852's Asbury Notes, making it Indiana's oldest college newspaper. With a history that predates even Sigma Delta Chi, it isn't surprising to find that the campus paper is also a common bond between DePauw's alumni in journalism.

Meg Kissinger '79 (right), an investigative reporter for the Milwaukee Journal Sentinel, remembers most of her time being spent working against tight deadlines for The DePauw. "In my spare time, I attended class. I'm kind of kidding there, but not really," says Kissinger, who won a 2008 Polk Award for a series on toxic chemicals in consumer products. "I would say I spent 50 hours a week or more in the beat-up old Pub Building. It was wonderful. I remember many times walking back to the Theta house at 5 in the morning, having just finished one edition or another of the paper."
For Mary Leonard Ramshaw '70, deputy managing editor for the Pittsburgh Post-Gazette, the relationships she formed while working at The DePauw cemented her dream of becoming a professional journalist. "Working on The DePauw with an unusually talented, dedicated and independent group of student journalists — Jack McWethy, Bob Steele and Noel Humphreys — taught me how much fun and fulfilling newspapering could be," she says.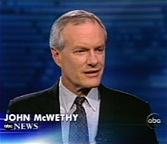 Some of Ramshaw's friends continued their involvement with young journalists at DePauw. Robert M. Steele '69 left The Poynter Institute in 2008 to return to his alma mater as the Eugene S. Pulliam Distinguished Visiting Professor of Journalism. Prior to his death in 2008, John F. McWethy '69 (left), a national correspondent for ABC News, visited DePauw frequently to volunteer his time with students.
Morris fondly recalls one such visit. "During my sophomore year, John McWethy visited campus for a week as a Kilgore counselor and worked mainly with the staff at The DePauw," he says. "I was struck by his attitude and his obvious knowledge, both as a professional and as a man, and we developed a connection for which I was, and am, very grateful. On a deadline night while John was in town, a criminal escaped from the local jail, so I went to the jail with another reporter and arrived as the guards were bringing back the recaptured convict. It was an exciting event, and John gave just enough guidance to me as I sat down to write that the story itself became a valuable learning moment for me as well."
Each DePauw journalist has a story similar to that of Morris. Of a mentor who guided him or her into the profession. Or of friends that, from his or her first day on campus, made that journey seem possible. One century ago, at a liberal arts college in rural Indiana, this camaraderie inspired students to formalize their professional bond. And now, we celebrate that tradition.
Back