WGRE's 200 Student Staffers Prepare for 60th Anniversary Celebration
April 20, 2009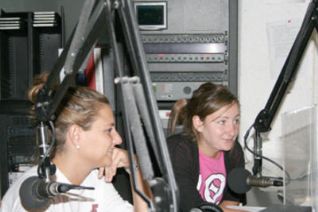 April 20, 2009, Greencastle, Ind. — "For six decades, DePauw University's WGRE radio has been broadcasting news, sports and music over the airwaves," begins a story in the Banner-Graphic of Greencastle. "On April 29 they will celebrate their 60th birthday with an all-campus concert, popcorn, photo booth and community birthday cake on the east lawn from noon to 4 p.m. A 15-member student board of directors and over 200 student participants run the station that operates 24 hours a day seven days a week." (at left: students Brooke Hollingsworth and Ashley Fehr on the air)

"WGRE has a dedicated team of sports and public affairs reporters that cover local, regional and national events," says Jeff McCall, professor of communication and the station's faculty adviser. "And they have been the host
of candidate forums in western Indiana for over 20 years." (right: FCC Commissioner Richard E. Wiley being interviewed by WGRE's Amy Brandli in September 1973)
A 1976 graduate of DePauw, Dr. McCall is one of the station's alumni. Others include Dave Fehling '82 of Houston's KHOU-TV; Lynsay Clutter '00 of WTHR-TV, Indianapolis; Dan Quayle '69, 44th vice president of the United States; John Kesler '80, vice president of business development at Emmis Communications; Stan Jastrzebski '03, news director of Bloomington, Indiana NPR affiliate WFIU; and Bayard H. "Bud" Walters '63, president and owner of The Cromwell Group Inc.
"The station has been a finalist three times for the National Association of Broadcasters' highest honor -- the Crystal Award, which
recognizes service to community," writes Maribeth Ward. "WGRE is the only non-commercial station to have been so recognized." (at left: music legend Todd Rundgren visits with student staffers, April 8, 2009)
The student station just picked up three awards in the Indiana Associated Press Broadcasters awards.
"The skills students learn at WGRE carry far beyond weekly radio shows or news reports. The station is proud that many of its past deejays, station managers and sports reporters have gone on to achieve great things in the world of broadcasting," says Elizabeth Elliott, a DePauw junior who serves as WGRE's promotion manager.
The article also offers a brief history of radio at DePauw, noting that students were first given air time on Indianapolis' WIRE in 1941 before signing on WGRE in April 1949. It also points to professors Herold T. Ross and Elizabeth Turnell as being key to the station's early success. (at right: WGRE control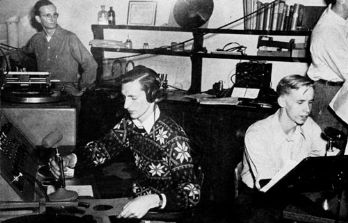 room in 1949)
"Ross and Turnell were real visionaries for their day," declares Professor McCall. "They recognized the study of media and determined that broadcasting was a good outlet for students, giving them a voice."
Access the full story at the newspaper's Web site.
WGRE can be heard over the air at 91.5 FM or on the Internet via this link.
Back