Prof. Nicole Brockmann Authors From Sight to Sound
April 23, 2009
April 23, 2009, Greencastle, Ind. — From Sight to Sound: Improvisational Games for Classical Musicians, by Nicole M. Brockmann, assistant professor of music at DePauw University, has been published by Indiana University Press. The book is described as providing "a fun and practical approach to learning improvisation for musicians of all levels and instruments."
Brenda Brenner, associate professor at Indiana University's Jacobs School of Music, states, "This book presents the basic argument that to truly understand music one must not only perform what is written on the page, but be able to recreate the musical style and language through improvisation. . . . Brockmann focuses on the missing link in music education at all levels-the connection between a theoretical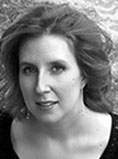 understanding and practical knowledge of one's instrument."
Learn more, and order the book, at the publisher's Web site.
Nicole Brockmann received her B.F.A. from Carnegie Mellon University and her M.M., A.D., and D.M.A. from Yale University and is a past president of the Dalcroze (Eurythmics) Society of America. Prior to coming to DePauw, Nicole Brockmann served on the faculties of Yale University and West Virginia University. She is the subject of this previous story.
Visit the DePauw University School of Music online.
Back