2009 Edition of Putnam County Relay for Life Kicks Off at Noon Tomorrow
April 24, 2009
Also: 2009 Putnam County Relay For Life Web Site
April 24, 2009, Greencastle, Ind. — DePauw University students, faculty and staff will again join forces with members of the Putnam County community this weekend to raise funds for the fight against cancer. 2009 Putnam County Relay For Life begins at noon tomorrow at DePauw's Blackstock Stadium with 1,391 individuals and 110 teams signed up to participate. Already more than $34,000 has been collected for the 24-hour event.
"For me, there's a lot of problems and issues in the world that you cannot do anything about, and cancer is one of the issues that has touched pretty much everyone," Raija Bushnell, a DePauw senior and Relay For Life

co-chair, tells The DePauw. "Cancer is one of those issues you can do something about."
The DePauw-hosted Relay has won several awards for being among the best of its kind among American colleges and universities. The fundraiser was first held in 1996 and raised nearly $15,000. The total grew to approximately $20,000 by 1998, $30,000 by 1999, and $42,000 in 2000. Then, 2001 brought in $80,000; followed by $127,000 in 2002; more than $162,000 in 2003; 2004's $208,735; and a 2005 total of more than $230,000. The 2006 and 2007 Relays each raised approximately $220,000 for the cancer fight. The recession and a rainy forecast kept donations to about $161,000 last spring.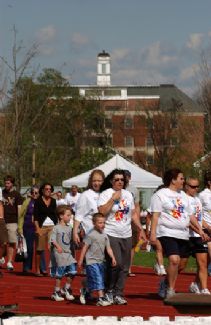 The theme of this year's Relay is "Dancing Through the Decades." The Putnam County event will feature performances by student groups, including house bands from Phi Delta Theta and Sigma Alpha Epsilon fraternities, the Tiger cheerleaders, XCell dance team, the DePauw Pep Band and DePauwCappella.
"Being a part of a sorority, of any organization, is more than just fun and games," says freshman Chloe Lawson, who is a team captain for Kappa Kappa Gamma sorority. "It is a good philanthropy to support."
Learn more about the event, and contribute to the cause, by clicking here.
See a brief video of 2008 Putnam County Relay For Life, produced by DePauw's executive director of media relations, Ken Owen '82, here:

[Download Video: "2008 Relay For Life Video" - 9310kb].
Back