Softball Start Time Moved Back One Hour
April 24, 2009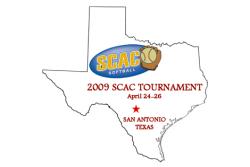 April 24, 2009, San Antonio, Texas — The fourth and final game of the opening day of the Southern Collegiate Athletic Conference Softball Championship between 19th-ranked DePauw and Trinity has been moved from 6 p.m. CDT to 7 p.m. due to the length of the first two games.
Trinity, 13-20, defeated Millsaps by a 12-5 score in this afternoon's second game. DePauw, 23-7 on the season, is going after its second straight SCAC title.
Live stats and video are available courtesy of Trinity University.
Back