"A Gift Beyond Itself," Bartlett Reflection Center is Formally Dedicated
April 24, 2009
April 24, 2009, Greencastle, Ind. —

[Download Video: "Jim Bartlett '66" - 1922kb] "This sort of tapestry that's the DePauw University experience -- it consists of many things," James R. Bartlett said this afternoon at the dedication of the Bartlett Reflection Center in the DePauw Nature Park. He told the alumni, students and staff gathered that the experiences -- small and large -- can range from "somebody making a career decision sitting out on the screened porch or a professor mentoring a student ... Our hope is that as this place goes forward there are going to be a lot of memories made here and throughout this University.
Located within the DePauw Nature Park and adjacent to the Janet Prindle Institute for Ethics, the Bartlett Reflection Center provides a place for individual
and group reflections in a quiet, natural setting. The two buildings are joined by a series of waterfalls and streams of water. The Reflection Center complements the Institute by offering a space conducive to meditation and contemplation.
A gift by Jim and Sue Bartlett (pictured below left), both 1966 graduates of DePauw, made the Reflection Center possible. Jim Bartlett served on the University's Alumni Board from 1991-97, and was its president from 1995-97. He has served on the Board of Trustees since 1995. In 2001 he received an Alumni Citation.
Gretchen Person, director of spiritual life at the University, calls the Reflection Center "a gift beyond itself; a gift beyond the physical center that surrounds us here, it's a gift of the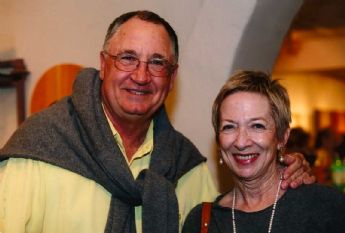 opportunity to examine life itself."
The Reflection Center offers a space for interfaith dialogue, "which harnesses the power of students to build pluralism in the world," Person stated. It offers space for book groups, yoga, personal meditation, discussions and meetings, among other things.
Earlier this month, the Reflection Center received LEED® (Leadership in Energy and Environmental Design) Green Building Rating System Gold certification from the U.S. Green Building Council. The building, which will be dedicated next Friday afternoon, joins the Janet Prindle Institute for Ethics, which became the state's first LEED-New Construction Gold building last spring. DePauw is now the only institution in Indiana with more than one LEED Gold building.

[Download Video: "Gretchen Person" - 1108kb] "By its very presence, this Reflection Center makes a statement that DePauw values reflection, a thoughtful examination of life,
how we should live, the spiritual dimension of life. care for the environment, wholeness, and the intentional consideration of what gives meaning to life," Person declared. "DePauw not only values these things in theory, but through its current programming gives concrete ways to explore these central issues of life. And this gives invaluable riches to the members of the DePauw community."
The Reflection Center provides DePauw students, faculty, staff and alumni -- as well as the Putnam County community -- "a good and needed place to step away from the hectic pace that all of us all too often find ourselves on," noted R. David Hoover, chair of DePauw's Board of Trustees and 1967 graduate of the University.

[Download Video: "President Brian Casey" - 1632kb] "Here it is," President Brian W. Casey said. "This place is all about the very, very heart
of what is DePauw. And I think, if years and years from now, students who have taken that moment of solace here become alums and they come back to this place, they'll think, this is the place where I made an important decision; or this was a place where the world seemed dark and all of a sudden it didn't seem dark; or the world was dark and I realized I was stronger than that darkness. That's what this place does. And as students working with teachers and becoming alums can remember that about this place [the question] 'What is DePauw?' becomes richer and stronger and wider."
In thanking the Bartletts for their generous gift and longstanding dedication to their alma mater, Hoover added,

[Download Video: "R. David Hoover '67" - 944kb] "Occasions like this ... remind me of all that is good with our University. DePauw is a place where young men and women learn to think in a setting that's both embracing and challenging. Through the passion of our faculty members and the generosity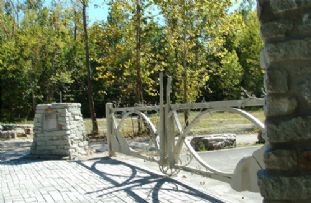 of our alumni, it's ultimately our students who benefit. This is the cycle of things, and has been for generations here at DePauw."
For information on the Reflection Center, contact Doug Cox, director of the DePauw University Nature Park, at (765) 658-5018.
Announced in September 2003 and dedicated a year later, the DePauw Nature Park's other features include seven trails, a campground and canoe launch, an outdoor amphitheatre, research areas, and the Ian and Mimi Rolland Welcome and Activities Center and the Manning Environmental Field Station.
Back