Relay Raises $160,000 for Cancer Fight
April 26, 2009
Also: Contribute to 2009 Putnam County Relay For Life;

[Download Video: "2009 Relay Video" - 5704kb]
April 26, 2009, Greencastle, Ind. — Participants in 2009 Putnam County Relay For Life met the challenges posed by a difficult economic time and raised $160,000 for the American Cancer Society, matching the total collected at the end of the 2008 Relay. The event, which took place at DePauw's Blackstock Stadium, annually brings together the DePauw and Putnam County communities. A total of 1,417 individuals and 110 teams registered for the event, and countless others were on hand for the festivities.
"Given the economic climate we're in, this is great news and affirms how special our community is," says DePauw senior Raija Bushnell, a co-chair of the event. "We'll continue to collect donations and the number will keep growing. Our thanks to all who made this such a success."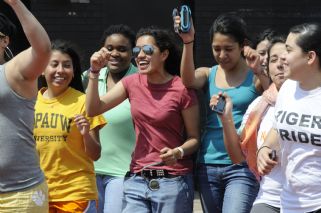 Sunny skies, a temperature of 80 degrees, and wind gusts of 30 miles per hour greeted the opening of 2009 Putnam County Relay For Life at noon Saturday. The fundraiser for the American Cancer Society continued through noon Sunday.
Hosting Relay on an annual basis is "an incredible honor" for the University, DePauw President Brian W. Casey said during the opening ceremonies. "I have to point out that this is a day that is personally meaningful for me," Dr. Casey told the crowd. "I am the son of a cancer survivor, so I know what this can do. I'm telling you, in a very, very real way, you're changing lives with every step you take today."
The 2009 Relay was co-chaired by Bushnell and DePauw junior Maribeth Kupstas along with local resident Becky Barham.
"You folks in the community have no idea how hard these young people work," Barham told the crowd before the walk began. "Without them this event truly would not happen."
"This event represents months of work by many, many people," Bushnell noted. "It's a wonderful weekend in so many ways. We're raising important money for the American Cancer Society and building the bonds between DePauw and its Putnam County neighbors. Working together we are making a difference, and having a lot of fun in the process."
The theme of this year's Relay was "Dancing Through the Decades."
The DePauw-hosted Relay has won several awards for being among the best of its kind among American colleges and universities. The fundraiser was first held in 1996 and raised nearly $15,000. The total grew to approximately $20,000 by 1998, $30,000 by 1999, and $42,000 in 2000. Then, 2001 brought in $80,000; followed by $127,000 in 2002; more than $162,000 in 2003; 2004's $208,735;
and a 2005 total of more than $230,000. The 2006 and 2007 Relays each raised approximately $220,000 for the cancer fight. The recession and a rainy forecast kept donations to about $161,000 last spring. (image at right from Saturday night's luminaria ceremony)
Learn more about the event, and contribute to the cause, by clicking here.
View a short video montage of the opening of the 2009 Relay at DePauw, produced by Ken Owen '82, executive director of media relations, here:

[Download Video: "2009 Relay Video" - 5704kb].
Back