19th-ranked Tigers to Play for Second Straight SCAC Softball Title
April 25, 2009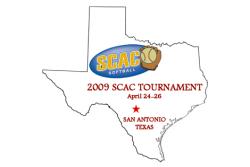 April 25, 2009, San Antonio, Texas — The 19th-ranked Tigers improved to 25-7 and advanced to Sunday's Southern Collegiate Athletic Conference championship game following a 6-0 win over Hendrix. The Warriors dropped to 22-19 with the loss.
DePauw will play for its second straight SCAC title at 11 a.m. CDT on Sunday against Rhodes College.
The Tigers scored one in the first as Brianne Weeks singled and moved to second on a wild pitch. Emma Minx moved her to third and Rachel Gill reached on an error which allowed Weeks to score. In the third, Jen Koskinski's singled with two on and an infield throwing error on the play right home Minx.
Carolyn Bartlett, Rachel MacBeth and Chelsy Patterson each singled in the fourth and Weeks lifted a sacrifice fly in foul territory to left field, scoring Bartlett.
DePauw sealed the win in the seventh as Patterson singled, Weeks walked and Minx singled to load the bases. Gill singled in Patterson before Kosinski reached on a fielder's choice forcing Weeks out at the plate, but Minx scored on the play. Ashlee Anton's groundout plated Gill with the final run.
The Tigers totaled 11 hits led by Patterson, Weeks, Minx and Gill with two each. Elizabeth Vaughan had two of the Warriors' seven hits.
Megan Soultz tossed the shutout by allowing just seven hits and striking out seven with no walks and improved to 22-7. Soultz extended her streak of not allowing an earned run to 26 2/3 innings and has now pitched 27 2/3 straight innings in the SCAC tournament without allowing an earned run. Vaughan dropped to 12-4 with the loss.
Back