DePauw Claims Third Straight SCAC Title; Earn 11th Consecutive NCAA Appearance
April 26, 2009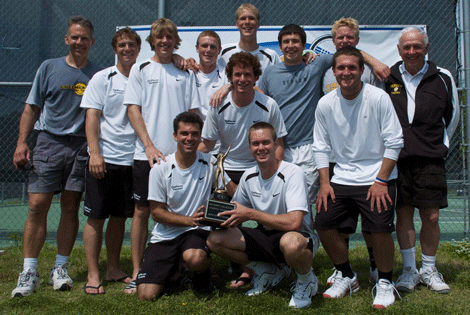 April 26, 2009, North Little Rock, Ark. — The 13th-ranked Tigers defeated 14th-ranked Trinity, 6-3, and captured their third straight Southern Collegiate Athletic Conference title and the conference's automatic qualification into the NCAA Division III Championship.
DePauw took a 2-1 lead with wins at second and third doubles and then won the match with singles victories at the number two through five slots.
With the win, DePauw improved to 21-3 for its third 20-win season in the last four seasons, while Trinity dropped to 13-8. The match marked the seventh straight year the two squads battled for the conference title.
Pairings for the 2009 NCAA Championship will be announced on Monday, May 4. DePauw will be making its 11th straight appearance in the tournament and 15th overall.
Trinity University vs DePauw University
Apr 26, 2009 at North Little Rock, Ark.
(Burns Park)

#13 DePauw University 6, #14 Trinity University 3

Singles competition
1. Max Frey (TRINITY) def. Scott Swanson (DEPAUW) 6-2, 6-4
2. Scott Sandager (DEPAUW) def. Bobby Cocanaugher (TRINITY) 6-4, 6-3
3. Hunter Schouweiler (DEPAUW) def. John Runge (TRINITY) 6-1, 7-6 (7-3)
4. Bryan Heck (DEPAUW) def. Andrew Hoing (TRINITY) 7-6 (7-2), 6-2
5. Michael Rardon (DEPAUW) def. Cory Kowal (TRINITY) 6-1, 6-3
6. Crisanto Ramirez (TRINITY) def. Will Gates (DEPAUW) 6-4, 6-4

Doubles competition
1. Bobby Cocanaugher/Cory Kowal (TRINITY) def. Bryan Heck/Scott Sandager (DEPAUW) 8-4
2. Hunter Schouweiler/Michael Rardon (DEPAUW) def. Andrew Hoing/Crisanto Ramirez (TRINITY) 8-4
3. Scott Swanson/Will Gates (DEPAUW) def. Max Frey/Dan Murray (TRINITY) 8-6

Match Notes:
Trinity University 13-8; National ranking #14
DePauw University 21-3; National ranking #13
Back