Malaysian Newspaper Notes Prof. Matt Hertenstein's Research on Smiles and Divorce
April 26, 2009
Also:

Prof. Matt Hertenstein on Today
April 26, 2009, Greencastle, Ind. — "I went through my photo albums yesterday," begins a column in today's New Straits Times of Kuala Lumpur, Malaysia. "Not that I was nostalgic, no. The sudden interest in old photographs was precipitated by something that I had read. Researchers at DePauw University in Indiana, U.S., have found that the marriages of people with a smile in childhood or college photos are five times more likely to last than that of those who frown."
A. Kathirasen continues, "This could be due to the fact that smiling signifies a positive attitude towards life, they suggested. It could also be that those who tend to follow the orders of photographers and smile at the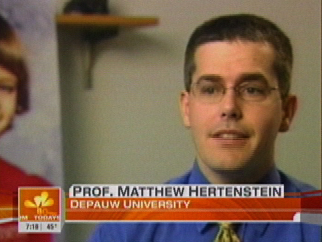 camera are obedient personalities and, therefore, there is less conflict in their marriage. That's another reason to smile."
Access the full story at the newspaper's Web site.
The research in question was conducted by Matthew J. Hertenstein, associate professor of psychology at DePauw, along with Carrie A. Hansel, formerly research coordinator at DePauw's Emotion Lab and 1993 graduate of the University, and 2008 DePauw graduates Alissa M. Butts and Sarah N. Hile, who were students of Dr. Hertenstein.
Their work has received a flurry of international media attention in the past two weeks, with coverage in British media outlets, United Press International, Yahoo! and a piece which aired April 16 on NBC's Today. Indianapolis ABC affilate WRTV also came to campus to interview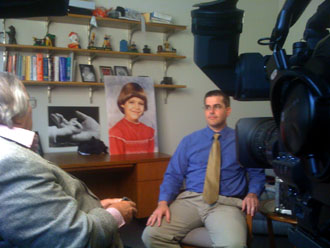 the professor, and the research on smiles was also covered by the Discovery Channel a few days ago.
Research conducted by Matt Hertenstein and his students at DePauw has previously been featured in American Baby and Prevention magazines, on the Canadian Broadcasting Corporation's program, The Nature of Things, in Sunrise magazine and the Toronto Sun, and on National Public Radio.
Visit Professor Hertenstein's Emotion Lab online by clicking here.
Source: New Straits Times
Back