Grammy-Winning Pacifica Quartet Here for Thursday Concert
April 27, 2009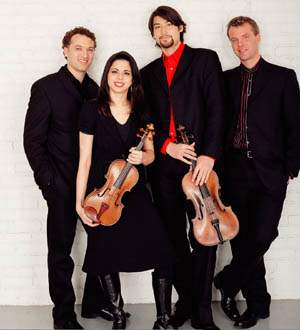 April 27, 2009, Greencastle, Ind. — "There's no point in predicting future greatness for the young Pacifica Quartet," raved the Los Angeles Times. "That future is already here." This Thursday, April 30, the DePauw University School of Music will welcome the Pacifica Quartet for a 7:30 p.m. concert in Thompson Recital Hall of the Green Center for the Performing Arts. The program is presented free of admission charge and is open to all.
The string quartet will present works by Felix Mendelssohn, Sergei Prokofiev, and Ludwig van Beethoven.
Recognized for its virtuosity, exuberant performance style, and often daring repertory choices, the Pacifica Quartet has carved out a compelling musical path. This has been a remarkable season for the Quartet; in late November, Musical America named the group its 2009 "Ensemble of the Year." In addition, the Pacifica Quartet received the music industry's most coveted recognition with its 2009 "Best Chamber Music Performance" Grammy Award for its recording of Elliott Carter's String Quartets Nos. 1 & 5 (Naxos). Since the group first came together in 1994, the Pacifica Quartet has swept top awards in the U.S. and abroad, including the prestigious Avery Fisher Career Grant in 2006, making the Pacifica only the second chamber music ensemble ever to be selected.
The Pacifica Quartet tours extensively throughout the United States, Europe, Asia, and Australia, performing in the world's major concert halls in cities such as Paris, London, Amsterdam, Vienna, Tokyo, and Perth. Each season, the ensemble can be heard on many of the nation's most prominent radio broadcasts, including Chicago's WFMT, Boston's WGBH, and American Public Media's Performance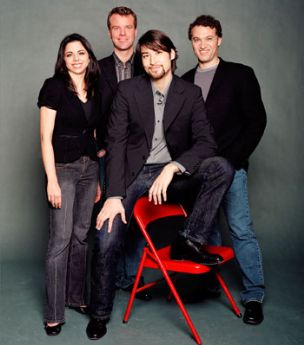 Today.
The members of the Pacifica Quartet share a unique history of personal and musical friendship. First violinist Simin Ganatra, born and raised in southern California, initially played with cellist Brandon Vamos and violinist Sibbi Bernhardsson while they were all teenagers. Sibbi later introduced violist Masumi Per Rostad to the group.
The members of the Pacifica Quartet live in Urbana-Champaign, Illinois, where they were appointed to the faculty of the University of Illinois in 2004 and serve as faculty quartet in residence. The Quartet members also serve as resident performing artists at the University of Chicago and the Longy School of Music in Boston. Reflecting its dedication to musicians and music lovers of the next generation, the Pacifica Quartet was instrumental in creating the Music Integration Project, an innovative program that provides musical performances and teacher training to inner-city elementary schools.
For more information about events, visit the DePauw University School of Music online.
Back