First All-Female Team Advances to Imagine Cup U.S. Finals
April 27, 2009
If everything goes according to plan, the 2009 Imagine Cup U.S. Finals, held May 2-5 in Cambridge, Mass., will be overtaken by MangoBunnies – Team MangoBunnies, that is. It's a name that suits the energy of the team's vocal leader Erin M. "ed" Donahue '09. She, Ashley M. Myers '10 and friend Malisa Vongskul, a student at Indiana University–Purdue University at Indianapolis (IUPUI), make up one of 15 teams to advance to this year's finals.
"We really wanted to focus on our project, so the name came last," Donahue explains. "It was really random. I really like mangos and bunnies. It also lends itself to cheers: 'When I say Mango, you say Bunnies!'"
The annual Microsoft-sponsored Imagine Cup challenges students from around the world to use technology to address some of the world's toughest issues. This year's competition theme is the United Nations' 8 Millennium Development Goals, a framework for making significant progress on issues such as child health and poverty by 2015.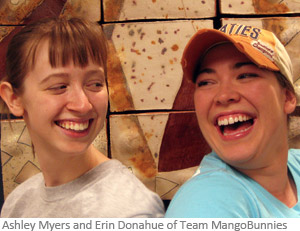 Team MangoBunnies' entry in the software design portion of the competition is a mobile and Web application called Computer-Assisted Medication Regimen Adherence (CAMRA) that will help to combat a deadly disease.
While planning their project, Donahue's early research into HIV/AIDS revealed a growing concern for doctors and patients fighting the disease.
"Medication regimen adherence is a big deal," Donahue says. "Even with a strict regimen such as with HIV/AIDS medication, you still only find that patients have a 70 percent adherence rate. For antiretroviral medication, that's really terrible because you need an adherence rate of at least 90 percent for it to be effective. When the medication stops being effective, the virus, as it replicates itself in your body, has the possibility to mutate and become drug resistant.
"Suddenly, you have a drug-resistant strain of HIV in your body, and now have two big problems. First, your medication can't treat you anymore, so you'll need to change your entire drug regimen. Second, if you spread this strain and infect somebody else, they can't follow the normal channels for being treated. So, that's what we wanted to address. We wanted to decrease the number of drug-resistant HIV strains, which would, in turn, reduce the number of deaths."
The software the team is developing works like an alarm system. A patient can enter his or her medications – often numbering in the dozens – on a schedule in his or her phone. When the time comes to take the medication, the phone rings or vibrates. It's a simple, yet effective solution to regimen adherence made possible by the ubiquitousness of mobile technology.
"Studies have suggested that increased reminders lead to an increased adherence rate," Donahue says. "So many people have mobile devices that they keep on their person at all times, and we really wanted to tap into that technology. Most of the healthcare industry hasn't taken advantage of it just yet. There are no-tech options as well, such as putting Post-It notes everywhere around your house, but another advantage of the application is that it's discreet. The stigma for HIV/AIDS is slowly going away, but people often connect the virus with certain behaviors that some patients don't want to be associated with. If a patient doesn't want to share with the world that they are HIV-positive, this is a way that they can avoid that stigma."
While Myers has been hard at work programming the mobile software, Vongskul has focused on creating a sister application for the Web. The decision to develop a dual system for regimen adherence tracking came about for the sake of the end-user.
"It's very hard to enter a lot of information on a phone," Myers explains. "A person might have multiple medications that need to be taken on a complicated schedule, so it's easier to type that in on a computer. That way, they can just synchronize it with their phone."
Myers says that the team is currently focused on the upcoming Imagine Cup finals, but they have shared ideas about the future direction of development of CAMRA.
"We'd like to implement a reporting function to keep track of when a person misses a medication," Myers says. "That way, they can go to the doctor to identify when they're missing a medication, so they can adapt their regimen. We'd like to keep the service free of charge.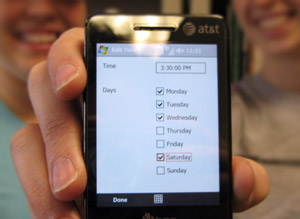 People who are sick already pay a lot of money to try to maintain their health, and keeping that cost down is essential. We also want to port this to other operating systems, for the iPhone and for Symbian, another mobile phone operating system, so that the most people have access to the software."
Whether or not they advance to the world finals in Egypt, the team has already made history. The MangoBunnies are the first all-female team to advance to the Imagine Cup U.S. finals during its seven years of competition. Donahue and Myers believe that the support they've received at DePauw helped to make that accomplishment possible.
"A lot of schools don't have many women in their computer science departments," Myers says, "but DePauw a very strong program for women. [Professor of Computer Science] Gloria Townsend does a lot of recruiting in the lower level courses to encourage women to continue on with the major."
"Because we have so much support from the professors, there are a lot of other women in our classes," Donahue adds. "It's important because you never get this feeling of being alone. You don't feel odd if you have a question, and you don't have to feel like gender is an issue."
Update: Ashley, Erin and Malisa took the first runner-up prize in the U.S. finals. Read more about Team MangoBunnies in this news story.

Back