Obama Foreign Policy is "Pragmatic, Realistic and Visionary," Says Lee Hamilton '52
April 28, 2009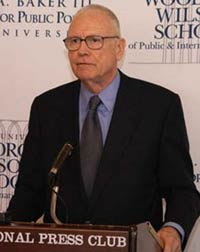 April 28, 2009, Greencastle, Ind. — "The most impressive aspect of President Obama's foreign policy thus far is the shear number of initiatives he has launched during his first one hundred days in office," Lee H. Hamilton tells Atlantic Monthly. A veteran statesman who served 34 years in the U.S. House of Representatives and co-chaired the Iraq Study Group and 9/11 Commission, Hamilton is one of several experts called upon to assess the new president. He is a 1952 graduate of DePauw University.
President Obama's accomplishments, as listed by Hamilton, include: "Re-energizing our efforts in Pakistan and Afghanistan, commencing the withdrawal from Iraq, dramatically shifting nuclear-weapons policy, including support for the CTBT and cooperation with Russia, changing policies towards Cuba, an opening to Iran, working with our partners to de-nuclearize the Korean Peninsula, pushing peace talks between Israel and the Palestinians, and Syria, helping Mexico fight the drug cartels and more."
Hamilton, a Democrat, asserts, "The tone and rhetoric of American foreign policy is different. The President clearly supports diplomacy and engagement, and he has attempted to change the country's
operating environment. His foreign policy is pragmatic, realistic, and visionary at the same time. Will all, or any, of this work? Everything depends upon policy implementation and execution."
Access the item at the magazine's Web site.
Lee Hamilton is director of the Woodrow Wilson International Center for Scholars in Washington, D.C. Newsweek has called him "Mr. Integrity," while the New York Times' David Brooks opined of Hamilton, "The country is hungering for leaders like him: open-minded, unassuming centrists who are interested in government more than politics."
In a 2007 interview, Hamilton stated, "I had an undergraduate experience at DePauw University that certainly opened my eyes to a lot of possibilities." Learn more in this story.
Back