CNN Spotlights DePauw Research on Smiling and Marriage Outcomes
April 29, 2009
April 29, 2009, Greencastle, Ind. — "People who smile a lot may attract happier people and maybe happier marriage partners," Matt Hertenstein, associate professor of psychology at DePauw University, tells CNN. The professor's research finds that people who smile in early photos are less likely to be divorced later in life. He says, "It may be that people who smile in response to a photographer are more obedient people and obedience may help in a marriage. I really don't know the explanation."
Dr. Hertenstein is included in a story today, " Hunting for the secrets of a happy marriage," which is featured at both CNN.com and CNN International.
Over the past few weeks, the DePauw research has been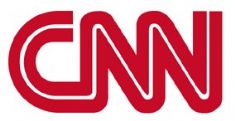 the subject of a number of media reports worldwide, including the London Daily Mail, NBC's Today and the New Straits Times of Kuala Lumpur, Malaysia.
The study was published in the journal Motivation and Emotion and was conducted by Hertenstein, Carrie A. Hansel, formerly research coordinator at DePauw's Emotion Lab and 1993 graduate of the University, and 2008 DePauw graduates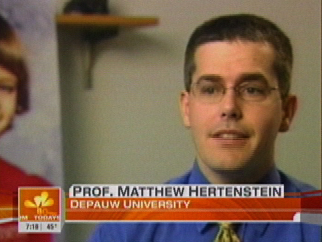 Alissa M. Butts and Sarah N. Hile, who were students of the professor.
Research conducted by Matt Hertenstein and his students at DePauw has previously been featured in American Baby and Prevention magazines, on the Canadian Broadcasting Corporation's program, The Nature of Things, in Sunrise magazine and the Toronto Sun, and on National Public Radio.
Visit Professor Hertenstein's Emotion Lab online by clicking here.
Source: CNN.com
Back