'Hero' Jack Keenan '88 Featured in People
March 25, 2009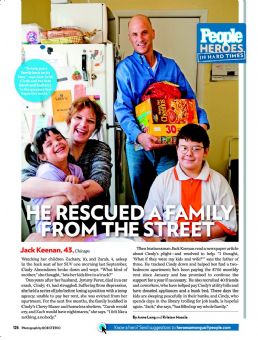 March 25, 2009, Greencastle, Ind. — John H. "Jack" Keenan IV, a 1988 graduate of DePauw University, is recognized as a "Hero in Hard Times" in the March 23 issue of People. The magazine notes how Keenan read a newspaper story about the plight of Cindy Almendarez and her two young children (ages 2 and 10), who were evicted from their apartment and were forced to live on the streets of Chicago.
"I thought, 'What if they were my kids and wife?'," Keenan tells People.
Anne Lang and Kristen Mascia write, "He tracked Cindy down and helped her find a two-bedroom apartment; he's been paying the $750 monthly rent since January and has promised to continue the support for a year if necessary. He also recruited 40 friends and coworkers, who have helped pay Cindy's utility bills and have donated appliances and a bunk bed. These days the kids are sleeping peacefully in their bunks, and Cindy, who spends days in the library trolling for job leads, is hopeful again."
Almendarez tells the magazine, "Jack has lifted up my whole family."
The full page feature includes a photo of Keenan with the

Almendarez family.
Access the item at People's Web site.
Back