UK's Economist Features Research Led by Prof. Matt Hertenstein
May 3, 2009
Also:

Prof. Matt Hertenstein on Today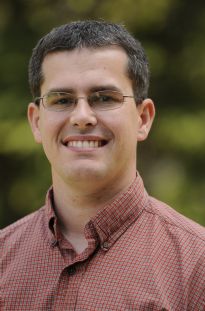 May 3, 2009, Greencastle, Ind. — "A grim expression in a yearbook photo or family snapshot could mean more than just a passing bad mood. It could also signal that the subject is more likely to get divorced than someone with a big smile for the camera," begins an article in the UK's Economist. The piece recaps the research of "Matthew Hertenstein and his colleagues at DePauw University in Greencastle," which compared photos from people's youth with images later in life. "The less a person smiled, it turned out, the more likely he or she was to have been divorced over the course of a lifetime."
The publication notes, "Dr. Hertenstein was following up research which had shown that the women who smiled most in their college photos were most likely to be married by the age of 27, among other things. He wanted to see if the same held, over the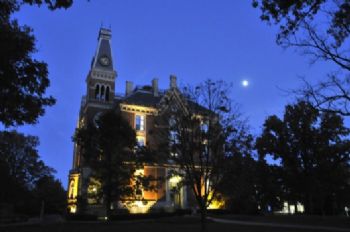 longer term, for divorce."
The story continues, "The researchers suggest that the smiles are accurate indicators of personality. The results should not be overstretched. The never-divorced had their smiles rated on average at 5.9, 5.9 and 5.2 out of 10 in each of the three groups, while the divorced scored 5, 5.3 and 4.4. That is not a huge difference, but it is statistically significant. On the other hand, comparing only the lowest-scoring people with the highest-scoring, the least-smiling were three times more likely than the biggest smilers to divorce."
The complete article can be found at the Economist's Web site. (at left: Matt Hertenstein being interviewed by Today in his Harrison Hall office)
The study was published in the journal Motivation and Emotion and was conducted by Hertenstein, Carrie A. Hansel, formerly research coordinator at DePauw's Emotion Lab and 1993 graduate of the University, and 2008 DePauw graduates Alissa M. Butts and Sarah N. Hile, who were students of the professor. Over the past few weeks, the DePauw research has been the subject of a number of media reports worldwide, including the London Daily Mail, NBC's Today, CNN and the New Straits Times of Kuala Lumpur, Malaysia.
Visit Professor Hertenstein's Emotion Lab online by clicking here.
Source: The Economist (UK)
Back