Ross Robinson '09 Will Teach in Germany and Work on Documentary as Fulbright Scholar
May 8, 2009
May 8, 2009, Greencastle, Ind. — Ross A. Robinson, a DePauw University senior, will spend the coming academic year in Germany teaching English to young people as a result of receiving an international graduate study and research grant through the 2009-10 Fulbright U.S. Student Program competition. Fulbright student grants aim to increase mutual understanding among nations through educational and cultural exchange while serving as a catalyst for long-term leadership development.
Robinson becomes the third DePauw senior to receive a Fulbright Award for the coming year. Lauren A. Wendling plans to travel to South Korea during the next academic year through an English Teaching Assistantship. Todd J. Schmid will spend a year conducting research in Paraguay as a result of receiving an international graduate study and research grant.

"The Fulbright English Teaching Assistantship provides a program that is aligned with my personal and academic goals of furthering my educational experience and language skills, human service in the form of educating others, and ambassadorship encouraging positive relations between the United States and Germany," Robinson wrote in his Fulbright application.
A double major in German and communication, Robinson studied in Berlin during the full 2008-09 academic year as part of his DePauw experience. He hopes his Fulbright experience will allow him to provide German students with
proficiency in English, as well as a better understanding of the United States.
"Unfortunately, the status and perception of America and its citizens has decreased in value for various reasons in some areas of Europe over the last several years," the senior notes. "During my time abroad in Germany and throughout Europe, I was confronted with anti-Americanism on a number of occasions. Instead of shying away from such situations, I encouraged discussion. Through challenging my peers' perceptions, or more often their misperceptions, of what an American is and what America is, in most cases I was able to positively influence the other party's view of the United States of America. I look forward to the opportunity of having personal interactions with elementary and/or high school students in Germany as a form of a casual ambassador for the United States, in attempts to dispel negative sentiment aimed towards the U.S."
Robinson's plans include working outside the classroom on a film documentary on issues of anti-Americanism.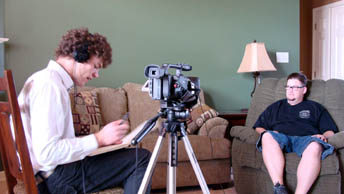 "An experience that ends abruptly after an event has less value than an experience that positively affects future events," he declares, adding that he plans to submit the documentary to festivals and screenings across the U.S. "This will not only inform Americans who are unaware of current views held by Germans and Europeans regarding Americans, but also promote discussion and conversation about this subject, with a goal of improving American- European understanding and relations."
Service is second nature to Robinson, who built homes for low income families in North Carolina and post-Katrina New Orleans on DePauw-sponsored service trips. "Spending a year studying abroad was "the best decision of my life," he declares. "Although pleased with my education at DePauw, I felt the need to experience a new academic and social environment while discovering first-hand German language and society, which I had studied for five years. In many ways, this
year abroad helped me to discover things about myself. Being dropped off in a foreign country, where English is not the native tongue, I didn't know a single person, and most businesses are closed on Sundays, I wasn't sure how I could effectively to adapt. Yet I did. I initiated a group of friends, found a shared apartment, and interviewed for and received an internship with a television and film production company."
Robinson wrote to the Fulbright committee, "Ultimately, each opportunity, inside and outside the classroom, presents a chance for ambassadorship. I find this role as the greatest responsibility as an American accepting a teaching assistantship in any country. As the global market expands and the global community continually increases, it is imperative to encourage positive international relations in order to avoid isolationism and become active members of the global community. I firmly accept this responsibility and believe that I will serve as a successful American ambassador to those I meet throughout my assistantship."
Douglas E. Harms, Herrick E.H. Greenleaf Professor of Computer Science at DePauw and the University's Fulbright Program Adviser, says, "Ross struggled to learn German and he will use this experience to get students involved in activities to help them learn English. His diverse background -- including sports, theatre and film -- is a definite plus. Ross' plan to make a documentary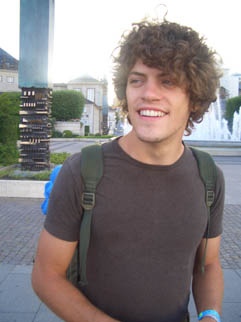 film dealing with anti-Americanism in Germany is terrific and will be a wonderful complement to his teaching; he has the knowledge and skills to make it happen. Ross is mature and sure of himself, but sensitive to others. He is very social and outgoing. He has energy, enthusiasm and passion. His eyes light up when discussing how he will use soccer to connect with students. His theatre and film background will be a big plus for any school.
Sponsored by the U.S. Department of State, the Fulbright U.S. Student Program is the largest American international exchange program offering opportunities for students and young professionals to undertake international graduate study, advanced research, university teaching, and teaching in elementary and secondary schools worldwide. The U.S. Student Program currently awards approximately 1,500 grants annually in all fields of study, and operates in approximately 155 countries worldwide. Fulbright full grants generally provide funding for round-trip travel, maintenance for one academic year, health and accident insurance and full or partial tuition. Since its inception in 1946, the Fulbright Program has provided more than 286,000 participants, chosen for their leadership potential, with the opportunity to observe each others' political, economic and cultural institutions, exchange ideas, and embark on joint ventures of importance to the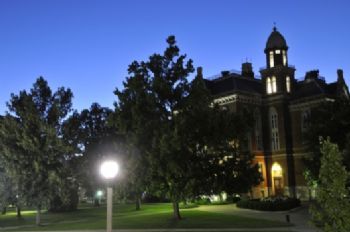 general welfare of the world's inhabitants. Learn more by clicking here.
To contact Dr. Harms, the recipient of a Fulbright Award for the 2004-05 academic year, send an e-mail to dharms@depauw.edu.
DePauw University is among the "Top Producers of Fulbright Awards for U.S. Students, 2008-09" according to a chart published in the October 24, 2008 edition of the Chronicle of Higher Education. The publication notes that three 2008 DePauw graduates received Fulbright Awards to study and live abroad for a year, and that 17 students at the University applied for the prestigious grants.
DePauw also ranks among the top 10 baccalaureate institutions in the nation for the total number of students who studied abroad in 2006-07, according to the 2008 Open Doors report. Learn more in this story.
Back