Multi-Faith Baccalaureate Service Will Start Commencement Day Activities
May 6, 2009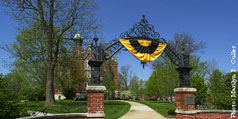 May 6, 2009, Greencastle, Ind. — Graduating students, their parents, family members and friends, and all in the DePauw University and Greencastle communities are invited to attend a multi-faith baccalaureate service at Gobin Memorial United Methodist Church next Sunday, May 17, at 9:15 a.m. The hour-long service, which takes place only a few hours before DePauw graduates its Class of 2009, is open to all.
The baccalaureate address will be provided by Leslie R. James, associate professor of religious studies and director of the black studies program at DePauw.
"Every year, this has proven to be a wonderful way to begin a very important day in the lives of our graduates, their many friends, and the University as a whole," says Reverend P.T. Wilson, University chaplain. "We welcome all to come and celebrate our seniors as they transition from college students to graduates. It will be a celebration of their

experiences and friendships on this campus and of the opportunities this four-year experience has created for each of them."
Visit DePauw's Office of Spiritual Life here.
A limited edition DVD of this year's ceremony will be created. It will include every graduate walking across the stage as well as bonus materials. Information on the disc can be found in this previous story; and online order form is accessible here.
Back