Indianapolis Star Notes Honor for Jeff Voris '90
May 7, 2009
Also: Photo Gallery of Saturday's Induction Dinner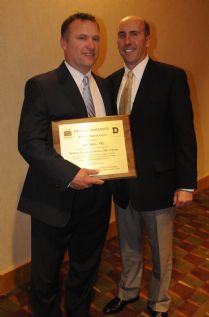 May 7, 2009, Greencastle, Ind. — "Butler football coach Jeff Voris, who broke DePauw career records for passing yards, touchdown passes and completions as a four-year starting quarterback for the Tigers from 1986-89, was one of six former student-athletes inducted into DePauw's Athletic Hall of Fame," notes the Indianapolis Star today. Voris is a 1990 graduate of the University. The other 2009 honorees, who were celebrated at a Saturday dinner at Walden Inn, are: Harley "Skip" Collins '65 (baseball/basketball), Charee Campbell Condict '98 (swimming), Carl Meditch '59 (basketball/baseball), Pete Land '90 (baseball/soccer) and Melissa Terrill Spowal '96 (field hockey)."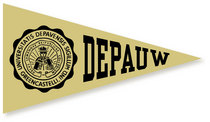 (at left: Voris with DePauw President Brian W. Casey)
Access the item at IndyStar.com.
DePauw University's Athletic Hall of Fame was established on October 17, 1986. Membership is awarded to students, coaches, and administrators for excellence in athletics and for exemplifying in their lives the positive values imparted by intercollegiate competition.
Visit the Hall of Fame online.
Back