Can't Make it to Campus? Watch Commencement Webcast
May 12, 2009
Also: Commencement Weekend Information; Pre-Order Your Commencement DVD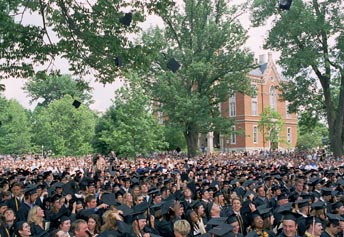 May 12, 2009, Greencastle, Ind. — No matter where you are in the world, you'll be able to see and hear Sunday's 170th commencement at DePauw University. For a second consecutive year, the graduation ceremonies will be webcast live. The Indiana Higher Education Telecommunications System (IHETS) consortium will again partner with DePauw to provide a video and audio feed of the complete program, which begins at 1 p.m.
The webcast will be available via this link. An archived version will be available within 24 hours after the ceremony is completed.
"As a DePauw graduate myself, it's a great pleasure and an honor to help my alma mater reach interested families, alumni and others who otherwise could not be witnesses to this special occasion," says Dennis

A. Trinkle '91, executive director of IHETS. "As an organization dedicated to serving Indiana's public and private higher education institutions, we're delighted to help DePauw again reach out to the many people who can't make the trip to Greencastle still enjoy the proceedings, live and in real time."
Wayne Lucas, coordinator of DePauw's Media and User Services Team, and Ken Owen, executive director of media relations, worked with IHETS to arrange the webcast.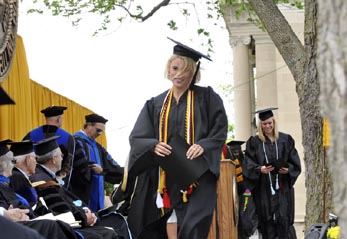 "We received notes and phone calls after we provided our first commencement webcast last year, and every single person was thankful for the opportunity to see the event and ebullient in their support of the concept going forward," says Owen, who received his DePauw diploma in 1982. "We're thrilled to be doing this again."
The University and IHETS have partnered in the past to present six webcasts of events, including the October 2008 installation of DePauw's nineteenth president, Brian W. Casey, and Mikhail Gorbachev's 2005 Ubben Lecture.
A higher-quality, permanent video of DePauw's 2009 commencement is available via a commemorative DVD. The disc will include the complete program as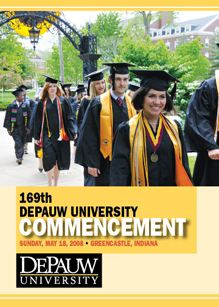 well as a photo gallery and a variety of bonus material, including more than an hour of campus highlights from the past four years (beginning with the Class of 2009's opening convocation in August 2005 and ending with the awarding of the 2009 Walker Cup).
The DVD can be pre-ordered using this online form. Learn more about the project in this story. (at right: cover of 2008 commencement DVD)
The ceremony is scheduled to begin at 1 p.m. As previously announced, John Dittmer, professor emeritus of history at DePauw and award-winning author, will present the principal address to graduates. Dr. Dittmer and entertainer David Cryer '58 will be awarded honorary doctoral degrees during the proceedings, which will take place in the Holton Memorial Quadrangle (weather permitting; rain location is the Lilly Center).
Learn more about commencement by clicking here.
Back