Broadcasters Association of America Honors Bud Walters '63
May 11, 2009
May 11, 2009, Greencastle, Ind. — Bayard H. "Bud" Walters, president and owner of The Cromwell Group Inc. and 1963 graduate of DePauw University, is a 2009 recipient of the Broadcasters Foundation of America's Ward L. Quaal Pioneer Award. Quaal helped to build WGN radio and television in Chicago into stations which were dominant in their market and influential to broadcast operations nationwide. Walters was honored at the National Association of Broadcasters convention in Las Vegas. (photo, l-r: BFOA chairman Phil Lombardo, Walters, and BFOA president Jim Thompson)
The Journal Gazette of Mattoon, Illinois, notes, "Walters founded the Cromwell Group in 1972 and he remains the president and driving force within his group of 22 radio stations (six AM and 16 FM) in five markets: Decatur (4), Effingham (3), Mattoon (3), Vandalia (2), Owensboro/Tell City (7), and Nashville (3), in four states (Illinois, Indiana, Kentucky, Tennessee)."
After graduating from DePauw, Walters served four years in the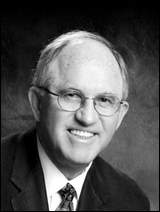 U.S. Air Force and later earned an M.B.A. from Indiana University. At that point, Walters "received a construction permit to built an AM radio station in Hawesville, Ky., which he still owns. Since that initial construction permit, Walters has specialized in start-up and turn-around stations. Over the years, Cromwell has owned and operated 32 radio stations, 20 of which were startups or upgraded from their original license."
The newspaper adds, "Following his mantra of 'being important where you are,' Walters has continually fostered community involvement. He has served on the board of directors of the Kentucky and Tennessee Broadcasters Associations, the NAB, the RAB, and the Radio Music Licensing Committee. He also serves on the board of DePauw University."
Read more by clicking here, or access this previous article on Bud Walters.
Back