DePauw Enrolls 776 New Students for 2009-10 Academic Year
May 11, 2009
May 11, 2009, Greencastle, Ind. — DePauw University has enrolled 776 students for the 2009-10 academic year -- including 753 first-year students -- exceeding its goals and attracting one of the most diverse new classes in the 172-year history of the institution. "To say we're pleased is an understatement," says Stefanie Niles, vice president for admission and financial aid.
DePauw had originally sought to attract approximately 635 new students. "What we've witnessed this admission season, with a record number of completed applications and now a robust number of admitted students, affirms that DePauw is an increasingly popular choice of top young scholars," says Niles.
About 17% of the enrolling students (133) are domestic students of color, up 41% from last year's 94. Another 11% (85) of the incoming students will be coming to DePauw from other countries; 74 are degree-seeking international students and 10 will be exchange students. Forty-three will be coming from China, with 7 each from Vietnam and Japan, 4 from India, 3 each from Ghana and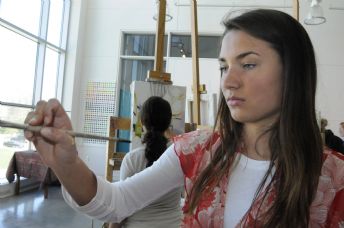 Nigeria, and 2 each from Ethiopia, Nepal, and South Korea. Colombia, Cyprus, France, Guatemala, Italy, Moldova, Myanmar, Nicaragua, Pakistan, and Zimbabwe are each represented by one incoming DePauw student.
Domestic students will come to Greencastle from 30 different states, Puerto Rico and the Virgin Islands. Indiana residents comprise 38% of the enrolling class.
The DePauw University School of Music is enrolling 48 new students; thirty are instrumentalists, the other 18 are vocalists.
DePauw's Management Fellows program will welcome 43 new students in the fall. Thirty new Honor Scholars are enrolled,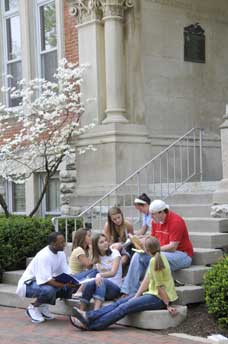 while the Media Fellows and Information Technology Associates Program each have 23 students. There will also be 20 new Science Research Fellows in the fall.
Twenty-one students have committed to the DePauw Summer in Ecuador program.
The new undergraduates include 62 Holton Scholars, 14 Bonner Scholars and 11 Rector Scholars.
The University received 4,417 completed applications, an increase of 8% from last year.
"I am thrilled that people perceive DePauw to be an extraordinarily desirable College of Liberal Arts and School of Music," says President Brian W. Casey.
"August will be here before we know it, and we're already making preparations for this group's arrival," says Niles. "We should note that it is typical for all colleges to experience some 'summer melt' as students change their minds for a variety of reasons, so the class that we actually enroll may be somewhat smaller. Our current and future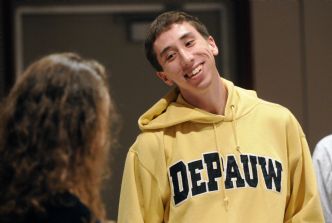 students and their parents should be assured that we are equipped to handle the numbers that we have now, and that we're extremely pleased to enroll an academically solid, diverse and talented group of students."
Adds President Casey, "It is important that we highlight the prominent role that support from our alumni plays in keeping the DePauw affordable. Scholarship dollars provided through endowments and the Annual Fund benefit every student, including those who do not receive financial aid. The gifts of thousands of DePauw alumni are especially important in the current economic climate, and I thank them on behalf of our incoming students
and their families."
Back