Tiffany Schiffner '02 to be Recognized as 'Posse Star'
May 12, 2009
May 12, 2009, Greencastle, Ind. — Tiffany A. Schiffner, a 2002 graduate of DePauw University, will be honored as a 2009 "Posse Star" at the Posse Foundation's annual gala, Wednesday, May 20 at Pier Sixty in New York City. The event will be emceed by 60 Minutes correspondent Lesley Stahl, and will feature a performance by John Legend and remarks from the New York Times' Bob Herbert.
The "Stars" are honored for their contributions to the organization and the world of education. Besides Dr. Schiffner, MTV Networks and Vanderbilt University will also be recognized with 2009 awards.
Dr. Schiffner came to DePauw as a Posse Scholar from New York and graduated magna cum laude. She earned her Ph.D. in counseling psychology from the University of Illinois at Urbana-Champaign and is now serving a psychology residency at Duke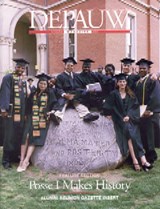 University.
The Posse Foundation identifies public high school students with extraordinary academic and leadership potential, who may be overlooked by the traditional college selection process. The Foundation extends to these students the opportunity to pursue personal achievement and academic excellence by placing them in supportive, multi-cultural teams ("posses") of 10 students. The Foundation's partner universities acknowledge Posse Scholars by awarding them four-year, full-tuition, leadership scholarships. DePauw hosts two Posses each year -- one from New York City and the other from Chicago -- and has been a Posse partner since 1996.
In 2004, then-DePauw President Robert G. Bottoms was recognized as a Posse Star.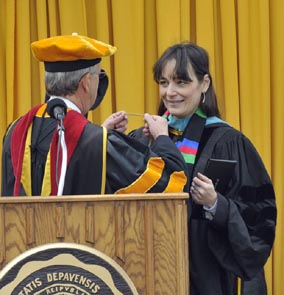 In May 2008, Posse founder Debbie Bial joined Dr. Bottoms in providing the principal address at DePauw's commencement and was presented with the McNaughton Medal for Public Service.

[Download Video: "How Will You Care?" - 2518kb] "What will you do as a collective?," Bial asked the graduates who sat before her on the lawn of historic East College. "What will motivate you to do good things? How will you care? Did you ever have a moment when your whole heart went out to someone? Maybe you didn't have time to think about helping or supporting or nurturing or encouraging but you did it. Maybe you are someone who even saved someone else's life once. But I hope you also think about extending that instinct to the larger world out there. It's not hard to see that this world needs help," she declared.
Learn more about the DePauw-Posse partnership in this previous story.
Back