Three DePauw Players Earn All-SCAC Honors; Riggle Named Coach of the Year
May 15, 2009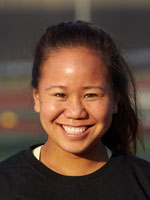 May 15, 2009, Greencastle, Ind. — After winning a second straight Southern Collegiate Athletic Conference title, three DePauw players earned all-SCAC honors and head coach Scott Riggle claimed one of the league's top honors in voting by the conference's head coaches.
Sophomore Janelle Arita (left) picked up three first-place votes for 91 points and ranked second among vote-getters on the all-conference team. The Tigers' top singles player was 23-10 in singles play this year and 49-19 in her career. She also was 21-10 in doubles action, lifting her career mark to 47-16.
Junior Greer Mackie totaled 44 points and ranked sixth in the voting after finishing 21-12 in singles this season. She was also 22-9 in doubles and is 78-21 in her career.
Junior Kayla Smith was named honorable mention after going 17-13 in singles and 22-9 in doubles. Her career marks are now 66-23 in singles and 59-22 in doubles.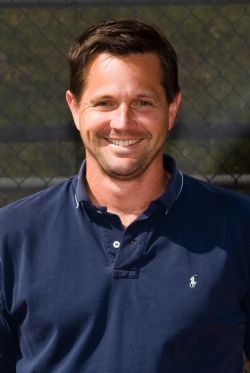 Riggle (right) was named the conference's coach of the year for the fifth time in seven years after the 12th-ranked Tigers won their second straight conference title. In his ninth season at DePauw, Riggle has led the Tigers to five straight NCAA team appearances and a 162-65 record.
Arita earned a spot in the 32-player NCAA Division III singles field, while Mackie and Smith will compete in doubles. The singles and doubles championships take place at Collins Hill Athletic Club in Lawrenceville, Ga., May 22-24.
Back