Women's Golfers Tied for Third after First Round of NCAA Championships
May 13, 2009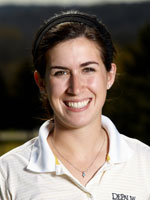 May 13, 2009, Port St. Lucie, Fla. — The 11th-ranked Tigers shot an opening round 321 and are tied for third following the first of four rounds of the NCAA Division III Women's Golf Championships at the PGA Golf Club.
Erin Kielty (pictured) shot a 77 in a round which featured three birdies and is tied for ninth, while Natalie Gough is tied for 17th with a 78. Taylor Beaty shot an 81 and is tied for 34th, while Nikki Garza tied for 59th with an 85 and Kelly Gaughan is tied for 93rd at 90.
Wisconsin-Eau Claire leads with a 312, while St. Lawrence is second at 318. DePauw is tied for third with nine-time defending champion Methodist.
The Tigers are making their eighth straight NCAA appearance and have finished in the top four each of the previous seven seasons including second in 2007 and 2008.
Second-round play begins Thursday morning and the tournament continues through Saturday.
Back