Nine Tigers Earn all-SCAC Softball Honors; Gill and Soultz Claim Top Honors
May 21, 2009
May 21, 2009, Greencastle, Ind. — In voting by the conference's head coaches, nine DePauw players were named to the all-Southern Collegiate Athletic Conference softball team with two players earning the top individual honors.
Catcher Rachel Gill (left) was named the conference's Player of the Year for the second time in the last three years, while Megan Soultz (below, right) was named the Pitcher of the Year for the second consecutive season.
Gill was second on the team with both a .395 batting average and 32 runs batted in. The DePauw career leader with a .421 batting average, Gill also holds DePauw and SCAC records for hits (211), doubles (43) and RBI (158).
She is the school's all-time leader in homers (10), total bases (300) and sacrifice flies (15). Gill also finished the season without an error or a passed ball in 226 chances and finished her career with a streak of 559 consecutive chances without error.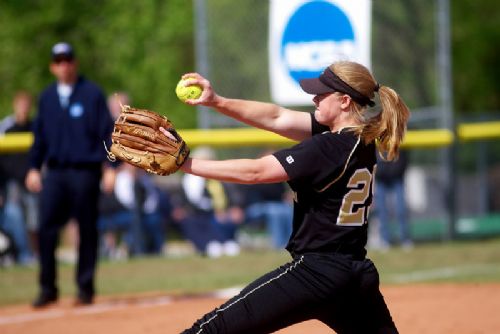 Soultz posted a 29-9 record with a 1.40 earned run average. She tossed 14 shutouts and struck out 164 in 230 innings. Soultz holds the DePauw and SCAC career records with an 84-18 record, 582 strikeouts, 38 shutouts and 653 innings, while her 1.11 career ERA is a school record.
In addition to Gill and Soultz, three other Tigers were named to the first team including shortstop Brianne Weeks, outfielder Carolyn Bartlett and designated player Jen Kosinski.
Weeks hit .374 for the season and led the team with 35 runs and shared the team lead with 49 hits. She committed just four errors for a .969 fielding percentage. Bartlett batted .302 and finished her career with a .368 average while playing and starting all 170 games. Kosinski was the team's leading hitter at .405 and paced the squad with 12 doubles and 33 RBI.
Second baseman Emma Minx and outfielder Chelsy Patterson each earned spots on the second team, while first baseman Ashlee Anton and third baseman Kelly Schwerzler were third team choices.
Minx hit .311 and had a .970 fielding percentage, while Patterson batted .333 with a .971 fielding percentage. Patterson finished her career with a .360 average with school and SCAC records for runs (151) and school records for at-bats (520), walks (70) and stolen bases (51). She also played in and started all 170 games in her four years.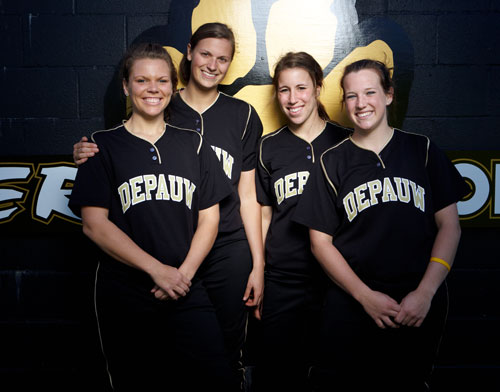 Anton hit .309 for the Tigers with a .984 fielding percentage, while Schwerzler batted .298 and finished with a .983 fielding percentage.
The Tigers finished the 2009 season with a 32-9 record, their second straight SCAC title and a third straight appearance in the NCAA Division III first-round championship game. In unofficial final statistics, DePauw led the nation with a .979 fielding percentage
The four seniors (pictured left to right: Gill, Bartlett, Patterson and Lauren Rees) graduated with a 140-30 overall record, 38-5 at home, 45-1 in the SCAC and 12-6 in NCAA postseason play.
Back