14 Leaders, Including Lee Hamilton '52, Urge Quick Approval for IMF
May 19, 2009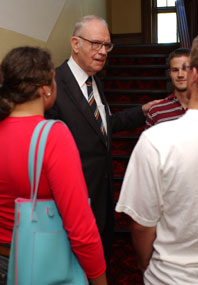 May 19, 2009, Greencastle, Ind. — Lee H. Hamilton, veteran statesman and 1952 graduate of DePauw University, is "among more than a dozen top former government officials pressing Congress to quickly approve funding for the International Monetary Fund," reports Dow Jones Newswires. Hamilton is among a group of 14 individuals -- including Colin Powell, Paul Volcker, Henry Paulson and Condoleeza Rice -- who make up the nonpartisan Bretton Woods Committee. The group sent a letter to congressional leaders yesterday. (at left: Hamilton meets with DePauw students in historic East College)
"The global economic crisis has had a severe impact on emerging markets and developing countries," the letter states. "The IMF is the best instrument to provide these countries with the short-term loans that will enable them to weather the crisis."
Read more by clicking here.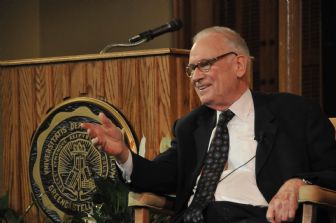 A Democrat, Lee Hamiton served 34 years in the U.S. House of Representatives and recently co-chaired both the 9/11 Commission and Iraq Study Group. He is director of the Woodrow Wilson International Center for Scholars in Washington, D.C. Newsweek has called him "Mr. Integrity," while the New York Times' David Brooks opined of Hamilton, "The country is hungering for leaders like him: open-minded, unassuming centrists who are interested in government more than politics."
Learn more in this recent story.
Back