Juliana Overmier '87 Wins National Flute Competition
May 22, 2009
May 22, 2009, Greencastle, Ind. — "Flutist Juliana Overmier, an adjunct faculty member at East Central University, has won the 2009 National Flute Association's Convention Performer's Competition, which was created to promote newly published flute music," begins a story in Oklahoma's Ada Evening News. "Overmier was a two-time concerto competition winner at DePauw University where she earned her bachelor of music degree in 1987. She received first prize in the 1989 James Pappoutsakis Memorial Flute Competition in Boston and the 1992 Concours Artistique Lucien Wurmser in Paris."
The story adds, "She will travel to New York City in August to premiere composer David Cutler's four-movement work Postcards at the NFA annual convention ... Overmier can be heard on several film soundtracks, including As Good As It Gets and Halloween H20. She is a member of the Tulsa Opera Orchestra and also performs with the Tulsa Symphony. She served as principal flutist for the Light Opera of Oklahoma Orchestra in Tulsa for the 2001 and 2002 seasons."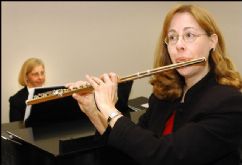 Overmier earned a master's degree in flute performance in 1996 from the University of Southern California
You'll find the complete article at the newspaper's Web site.
Learn more about Juliana Overmier in this previous story.
Back