Community Matters
May 21, 2009
DePauw students come from around the globe, but for nine months of the year, Greencastle is their home. This spring, many of them found creative ways to use their talents to contribute to the local community.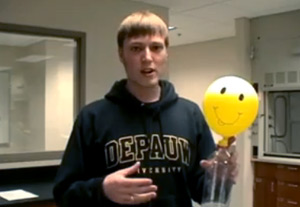 For their Science Research Fellows capstone project, juniors Alison A. Case and Steven M. Cudney, and seniors Andrew D. Kehr, Allyson G. McLoed ,Tram Q. Nguyen and Lindsay A. Schroeder set out to expand on the science education outreach already provided by Sharon M. Crary, assistant professor of chemistry and biochemistry. Since few elementary school teachers have a formal education in science, the group created a video tutorial Web site for elementary school teachers looking for interesting science experiments.
"Any teacher or parent can look at our videos online and see that these experiments are easy to do, regardless of the science education they have, and use materials that can mostly be found around the house," Schroeder says.
Each video demonstrates a simple concept, such as chemical reactions using baking soda and vinegar, or how molecules can be negatively or positively charged such as with a balloon rubbed against hair. They also emphasize the different steps of the scientific process, instructing teachers to ask the class for a hypothesis before an observation is made, and conclude with a summary of the key points.
"We tried to connect these experiments with Indiana's science teaching standards," Nguyen says. "Depending on how a teacher discusses them, the experiments can be targeted at different grade levels."
Other DePauw students were involved in cultural education in Greencastle schools, such as the enrichment programs organized by Assistant Professor of Modern Languages Francesca Seaman. Children at Deer Meadow Elementary School and Tzouanakis Intermediate School learned basic Italian through cultural lessons on opera, ballet and soccer.
Sophomore Anna C. Field, who volunteered in the ballet class at Deer Meadow, enjoyed teaching dance to the young girls in the program, as well as being able to learn about another language in the process.
"When some of my friends approached me about helping with an after-school dance program for kindergarten girls, I was thrilled to help," she says. "For me, dance is more than just technique and routines. It's about challenging yourself and learning to work hard. I wanted to be able to share all of this with the young girls at Deer Meadow and hopefully get them to share in the love for dance."
"It is amazing how much the kids learned in the short time that this program has been in place," says sophomore Marie A. Graw, who also volunteered at Deer Meadow. "They are not only eager to speak in Italian, but also to learn new stretches and exercises every day. By the end of our last session, they were counting in Italian, remembering the names of body parts and colors in Italian, and wanting to learn even more. I think that the combination of language and exercise made this program truly unique. It is so important to incorporate healthy habits into their lifestyles as well as expose them to a new language while they are young."
As part of a brand new Management Fellows capstone course, students were charged to enhance the DePauw-Greencastle relationship. Junior Brendan R. Belz and seniors Brenton A. Clough, Amanda S. Doherty and Thomas M. Walz met with representatives of the University and the town, including DePauw President Brian W. Casey and Greencastle Mayor Sue Murray, to discuss new ways to take advantage of the town-gown relationship. Based on these meetings, the group developed two different projects.
"The first thing we noticed was that there are many potential Web synergies that we could leverage to bring our communities closer together," Belz says. "We did some research and noticed that many other schools have a 'community portal' page on their Web site."
The group created a mock-up community portal that aggregates information about University services available to community members, such as how to check out a library book, what facilities are open to the public and how to take a class at DePauw. A more permanent Web page will be created based on the mock-up.
Their second project focused on expanding DePauw's meal system to include local restaurants. The group estimates that as much as $200,000 per year could be directed into the local economy from food purchases alone. The resulting increase in foot traffic would also bring students and residents closer together.
"The idea to integrate the DPU meal plan with local area restaurants has been tossed around for several years," Belz says. "For a long time, the costs to implement the system were prohibitive. However, with the advancement of technology we learned that the initial costs are now much lower."
Belz says that he hopes to see both projects come to fruition during his senior year. "We feel this could go a long way in improving our communities' relationship."
Anthony M. Baratta '11 and Courtney R. Knies '10 (pictured left), winners of the Men's Hall Alumni Association Scholarship for students who have significantly contributed to the quality of life at DePauw, couldn't agree more with efforts to better integrate the campus and community.
Baratta, a member of the DePauw Environmental Policy Project (DEPP) and co-president of the DePauw Environmental Club, sees value in creating individual relationships between students and town residents.
"I stayed on campus last summer for DEPP, and I ended up eating dinner with people in their homes all the time," Baratta says. "I feel like I've had a home-away-from-home experience that a lot of students could benefit from. ... DePauw stresses cultural diversity in education, and I feel that there's something to be said for diversity of age, as well."
Knies, a Bonner Scholar and Civic Intern at Hartman House, thinks that DePauw's small town setting gives opportunities to students willing to go off campus to find them.
"If a student is interested in being a banker, he or she can walk to a bank in downtown Greencastle and ask for an internship," Knies says. "There are so many ways for students to get involved and meet people who have already done many things in the community. In a larger town, that might not work."
"Students shouldn't limit their idea of the community to the people they go to class with," Knies adds. "If we build walls that separate 'us' and 'them,' we're doing a lot of harm. We can survive within the borders of our campus for all four years, but there is so much more going on."
Back