Kathy Vrabeck '85 Joins Legendary Pictures
May 26, 2009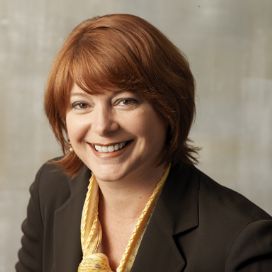 May 26, 2009, Greencastle, Ind. — Legendary Pictures is launching a digital arm and has tapped former Electronic Arts exec Kathy Vrabeck to run the unit," reports Variety. Vrabeck is a 1985 graduate of DePauw and member of the University's Board of Trustees. "The venture, to be based at Legendary's offices on the Warner Bros. lot, will develop content based on its pics, as well as original programming that will be (distributed) across multiple platforms, including the Internet, mobile phones and videogames," adds the publication.
Legendary is led by Thomas Tull, producer of movie blockbusters such as The Dark Knight, 300 and Superman Returns. The Los Angeles Times' Alex Pham says Legendary views "Vrabeck's appointment as a crucial step in taking the company's 'creative content to the next level of interactivity for both the industry and the consumer,' according to a statement ... Vrabeck has more than a decade of industry experience under her belt as head of publishing at Activision and, most recently, president of Electronic Art's casual games division. She is also among a
handful of high-profile female executives in an industry that has been dominated by men."
"The opportunity to combine Legendary's brand, loyal consumer following and talented creative partnerships with the fastest growing segments of digital entertainment is incredibly exciting," Vrabeck says.
Kathy (Patterson) Vrabeck previously served as president of EA Casual Entertainment and president of Activision Publishing and has been named on the Hollywood Reporter's list of the "100 Most Powerful Women in Entertainment."
Learn more about her in this previous story.
Back