Celebrate Friendships and the DePauw Experience at Alumni Reunion Weekend, June 10-14
May 27, 2009
Also: Alumni Reunion Weekend Schedule & Information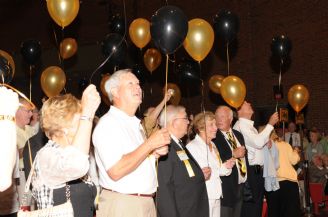 May 27, 2009, Greencastle, Ind. — The traditions and friendships that DePauw has created for more than 170 years will be celebrated at the University 's annual celebration, Alumni Reunion Weekend, which will take place June 10-14. Highlights will include performances by the legendary Kingston Trio as well as Forever, a Beatles tribute band.
There's still time can to register and check the status of events requiring tickets by calling the Alumni Relations Office at (877) 658-2586.
The fun begins at the All-Alumni Dinner on Friday, June 12, at 6:30 p.m. in the Lilly Physical Education and Recreation Center. Reminisce while dining on all-you-can-eat buffets. Forever will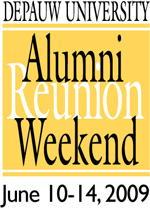 provide mop-topped entertainment later that evening at Walden Inn's Social Center. The Alumni Celebration on Saturday at 10:30 a.m. in the Green Center for the Performing Arts will feature remarks by DePauw's 19th president, Brian W. Casey, and class speakers for the 50th and 25th class reunions. Astronaut Joseph P. Allen will represent the Class of 1959; attorney and mountain climber Andrew B. Buroker will represent the Class of 1984.

Alumni Reunion Weekend includes plenty of activities for all ages. Have a student beginning his or her college search? Plan to stop by and visit with admission officers during the Admission Open House on Saturday from 9 a.m. - noon. Also on Saturday, be sure to check out the bounce house on East College lawn, as well as the Camp DPYou option. Children's meals will be available, and there is a special children's buffet on Friday evening.

On Saturday afternoon, Walden Inn will be the center of activity with live entertainment and a beer garden.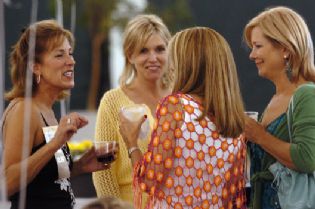 Remember to take a trolley down Seminary Street for an open house at the Elms, the president's home. In the midst of a career transition? If so, plan to attend the "Get Your Future Back" panel presentation and networking event on Saturday afternoon.

Other ARW 2009 events include a Class of 1959 50th reunion, Alumni College classes, the fourth annual Community Leadership Awards presentation, an art exhibition in the Richard E. Peeler Art Center, Washington C. DePauw Society Breakfast, "D" Association reception and Saturday afternoon receptions.
To view a complete, up-to-date schedule of events and to see who is planning to attend Alumni Reunion Weekend 2009, click here.
Back