Three Retiring Professors -- Mont, Gass and Hanna -- Featured on NBC's Today
May 2, 1986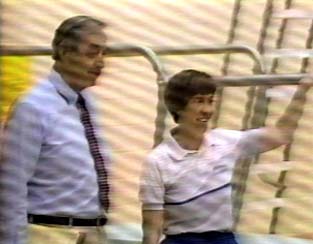 May 2, 1986, Greencastle, Ind. — "Most employers just give their retiring workers a pat on the back and then it's out the door," began a report which aired on NBC's Today this morning. DePauw University "does a good deal more than that," stated the network's chief financial correspondent, Mike Jensen, who presented a nearly five minute segment on DePauw's pre-retirement sabbatical program, featuring three faculty members.
Since he arrived in Greencastle in 1959,

[Download Video: "Coach Tom Mont" - 2802kb] "It's been exciting and demanding" for Tom Mont, who was DePauw's head football coach for 18 years and is now the school's athletic director, is preparing to retire. "But he's not dropping out," Jensen explains, "he's been studying for his state realtor's license with his wife, who already has one ... And he's been doing it under an unusual new program at DePauw called a pre-retirement sabbatical. Faculty members like Tom Mont can spend an entire semester at full pay preparing for
life after DePauw."
Clinton Gass, professor of mathematics, will retire next month after 32 years on the DePauw faculty. Jensen reports that Dr. Gass

[Download Video: "Prof. Clint Gass" - 2811kb] "is going to turn a hobby of 20 years into a new vocation: clock collecting and repair."
"I'm a tinkerer from way back, I've always enjoyed taking things apart and trying to fix 'em, trying to put them back together," the professor tells Today. Gass adds, "I think it's important when you retire to have something you really are interested in doing. I have seen some of my friends who have retired without anything special, and time drags awfully heavy for them."
With 34 years on the DePauw faculty, Dan Hanna "is known as a tough taskmaster with a big heart," Jensen states. Hanna, a 1947 graduate of DePauw, is retiring as a professor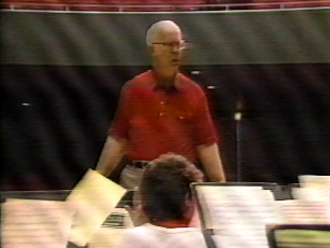 of music in two years and is eyeing a new career repairing musical instruments.

[Download Video: "Prof. Dan Hanna '47" - 4111kb] "I know I'm gonna miss teaching and being in the mainstream," says Hanna, who directs the marching band. "It's not enough to say, 'I'm done, hooray.' You've gotta do something or you wither away."
At the conclusion of the report, Jensen said that he wanted to "commend DePauw for what is a really terrific program, and I guess we can only hope that other employers who already don't do this sort of thing might consider it."
Source: NBC News
Back