Pair of Tigers Named to NGCA All-Region Golf Team
May 29, 2009
May 29, 2009, Greencastle, Ind. — DePauw senior Nikki Garza and fresman Taylor Beaty were named to the National Golf Coaches Association Division III Great Lakes Region Second Team.
Garza (left) posted a team-best 81.6 stroke average this year and finished her career with an 84.0 average in 76 rounds. This season she totaled seven top 10 finishes including medalist honors with a tie for first at Wittenberg's Pat Clouse Invitational in October.
She shot a season and career-best 75 in the opening round of last September's Anderson Invitational and earned all-Southern Collegiate Athletic Conference second team honors for the second straight year after finishing eighth at the conference championships.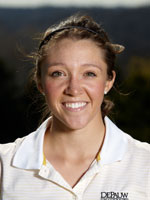 Beaty (right) finished her rookie campaign with the team's second-best average at 82.6. including six top 10 finishes. She was the medalist of the Big Four Classic in April at Crooked Stick after shooting a 78.
Her season's best round of 74 came in the second round of the Pat Clouse Invitational. She earned second team all-SCAC honors after tying for ninth place.
The Tigers finished 11th at this year's NCAA Division III Championships as they made their eighth straight national tournament appearance. DePauw also placed second at the SCAC Championships.
Back